Scholastic Schools Live | Ivor Baddiel
Write for TV with Ivor Baddiel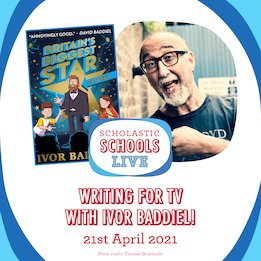 Join Ivor Baddiel at 2pm on Wednesday 21st April to hear all about his new book, Britain's Biggest Star is… Dad? Head backstage with Ivor – someone is making threats against the UK's biggest talent show. Twins Harry and Abby are newly recruited spies on the case, while their Dad is reviving his career as a comic onstage… Ivor has been writing for television for years, including The Voice and the X Factor. Join him for a session on his book and script writing. Do
YOU

have what it takes to write an introduction to the X Factor?
Ivor Baddiel is a scriptwriter and author. His television and radio credits include The X Factor, The Voice, and Comic Relief, and he's written for people including David Walliams, Mel and Sue, Dermot O'Leary and Ant and Dec. Ivor is also the author of eighteen books for both children and adults.
Suitable for ages 7+
Register with the password

WRITEFORTV

.

---
Books by Ivor Baddiel
Britain's Biggest Star is… Dad?
Someone is threatening to destroy Britain's Biggest New Star, the country's favourite TV talent show. The secret service decides to send in two young spies, twins Harry and Abby, to investigate. Their ticket backstage is their father, washed up comedian Gus, who believes the contest is his chance to revive his career. The list of suspects is long, and the twins don't know whom to trust. But they better track down the culprit soon, before disaster strikes the show – and its royal guest!
Receive an exclusive discount code for class packs of Britain's Biggest Star… is Dad? when you register for the event.
---
---