Yelena Black
Biography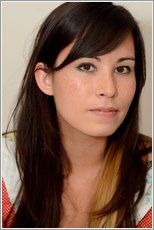 Yelena Black holds an MFA in fiction from Columbia University. Dance of Shadows was inspired by her love of ballet. As a child, she studied dance and fell in love with the art form despite not having much in the way of innate dance talent. Her talents lay elsewhere—with words and books and storytelling. Though she never pursued ballet professionally, her interests in dance and performing—and in all things dark and spooky—have blended together in her paranormal debut, where she is able to do pirouettes vicariously through her characters. She lives in New York with an aloof black cat.
Books
by Yelena Black
You have earned 4 stars

of a maximum 5

(1)
A Conversation with Yelena Black
The world of ballet is a fascinating one that few people really get to see firsthand. What drew you to write about this world?
For me, the world of ballet is this old, ancient place tucked away in the modern world. Every time I went to the ballet, I felt like I was stepping back in time. It's so regimented and rooted in tradition: the positions, the costumes, the mastery of the human body. I loved how elite and mysterious it was. I think this book was a way for me to explore that.
The music played a huge role for me. I still remember the first time I listened to Stravinsky's Rite of Spring. It was so bizarre and unnerving and chaotic. Later, when I heard the story about its premier in Paris, and how the audience erupted in a mad rage when the music began and the dancers came on stage, I knew I had to write about it.
What kind of research did you do for this book?
This book was fun to research because it mostly involved watching old recordings of ballets and wandering around New York. I also listened to the scores that Vanessa dances to in the book every day while I wrote, and did a lot of reading about ballet and its history. I also spent a fair amount of time snooping around Lincoln Center.
Have you ever tried ballet?
Yes, though I'm almost ashamed to even talk about it. I was a disaster. I couldn't even put my hair in a bun. It was just a floppy mess of bobby pins. Very embarrassing. I was so bad that in our winter performance of the Nutcracker, they had me and a few other less graceful dancers just walk on stage with horns and then walk off. I eventually quit when they told us we had to learn to do the splits by New Years.
Do you have any phobias?
Big waves in the ocean. I don't mind pools or lakes, but if I'm in the ocean, I never go in past my chest. I think I saw JAWS at too young of an age, and it has now made an indelible mark on my life.
Do you see yourself, or anyone you know, in any of your characters?
Definitely. All of the characters have a little bit of myself in them, and TJ, Blaine, Steffie, and Justin all share similarities with my friends. When I took ballet lessons, I had a male teacher who was charming but firm, like Josef, and who shares a lot of his physical characteristics. Though ultimately, all of the characters are singular.
Do you have a writing ritual?
Nothing extreme, though I do go to the coffee shop around the corner every morning to write. I usually order three rainbow cookies and an iced tea. I know it's not a balanced breakfast, but it helps ease me into the day. And I do write every day, at least 500 words. I think it's important to treat writing as an art, but also as a job.
When did you know you wanted to be a writer?
I tried to write my first novel in elementary school on my mom's word processor. It was a page long, and was about a girl living in the jungle. I still remember the first line, though I won't tell anyone because it's too embarrassing. I've been writing ever since. I don't exactly know what first drew me to it, though I was always an introverted child, and I think writing was the easiest way for me to communicate with other people.
What were you like when you were Vanessa's age?
Oh dear. When I think back to those days I always cringe. Let's see. I had already given up ballet by then, and was going to prep school. I had really long tangled hair. I wrote a lot of angsty poetry, and was always carrying around some horror novel. My school was surrounded by an iron gate, and my friends and I used to squeeze through the bars and sneak across the street to get pizza.
What were your favorite books when you were Vanessa's age?
I read a lot of Kurt Vonnegut, and a lot of horror stories. Poe, Shirley Jackson, Stephen King. I also really enjoyed 19th century novels. Jane Austen, the Bronte sisters. Jane Eyre was one of my favorites because it had equal parts romance and mystery, just like Dance of Shadows..
If you were directing the film version of Dance of Shadows, who would you cast in a few of the main roles?
I'd love to see Emma Stone as Vanessa. Zep is hard . . . maybe Taylor Kitsch? And Chace Crawford as Justin?
What's next?
I'm working on the sequel to Dance of Shadows, which I'm really excited about. I actually think it's even better than the first. It has a lot of surprises, and an amazing scene at the end that I cannot wait to write.
Just for fun, what's your favorite dessert?
Ha! This is the hardest question. I think it's a tie between a hot fudge sundae (with extra fudge) or rainbow cookies.