Scholastic Schools Live: Virtual reading events for Scholastic schools
Celebrate reading with your favourite authors and illustrators! Join us for a new programme of virtual events for primary schools. Featuring writing workshops, drawalongs and more, there are regular events running for all ages throughout the school term. Read our frequently asked questions.
When you register for an event, you will also receive an exclusive discount code for the book that the event is about if you opt in to receive emails from Scholastic.
Sign up to the latest events here! To stay informed about our future events, make sure you're signed up to the
Scholastic newsletter
.
---
Black History Month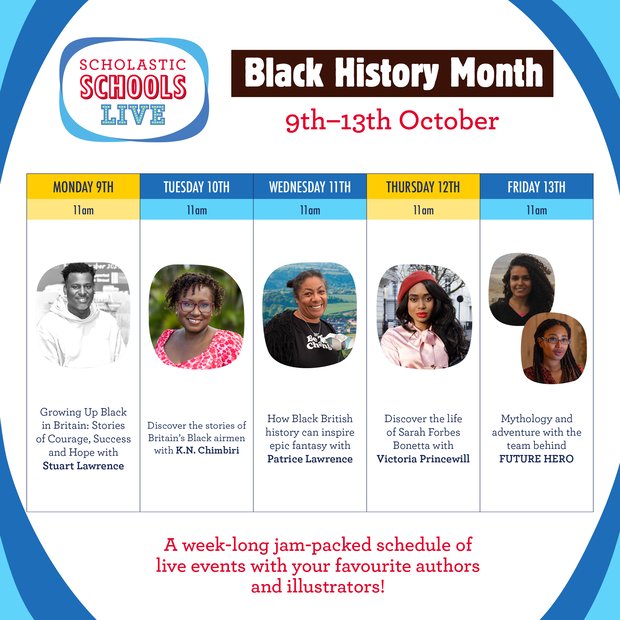 ---
Back to School
---
Black History Month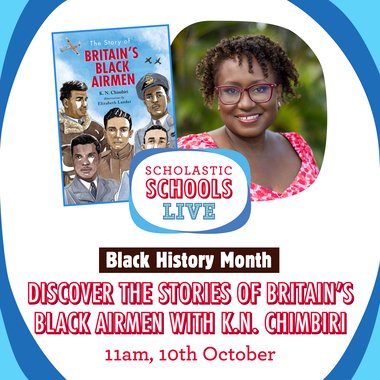 Discover the stories of Britain's Black Airmen with K.N. Chimbiri
Tuesday 10th October, 11AM
Explore the fascinating, rarely-heard stories of Black airmen during the First and Second World Wars with non-fiction author K.N. Chimbiri. This session will celebrate the inspiring legacy of people of African descent to the Allied war efforts; from pilots to ground crew, and with tales from across the globe, the story of Britain's Black airmen is an important part of the history of flying.
Password: BLACKHISTORYMONTH
Register now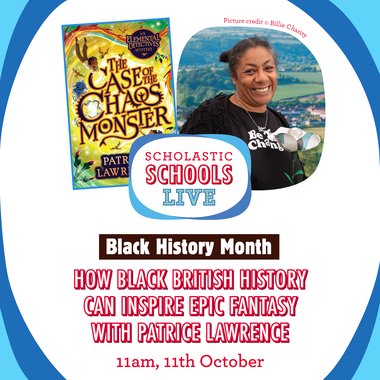 How Black British history can inspire epic fantasy with Patrice Lawrence
Wednesday 11th October, 11AM
How can Britain's Black history inspire epic fantasy? In this session, you will meet award-winning author Patrice Lawrence and learn about the historical research behind her critically acclaimed series THE ELEMENTAL DETECTIVES.
Password: BLACKHISTORYMONTH
Register now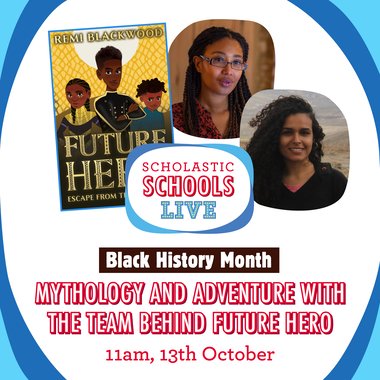 Mythology and Adventure with the team behind Future Hero
Friday 13th October, 11AM
Join us for a celebration of the latest book in the FUTURE HERO series, ESCAPE FROM CLAY CITY! In this special pre-recorded session, we will be joined by Jasmine Richards from Storymix, one of the team behind 'Remi Blackwood', and Deise Lino, the illustrator of ESCAPE FROM CLAY CITY.
Password: BLACKHISTORYMONTH
Register now
---
Events this October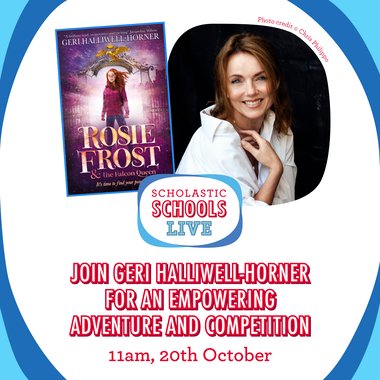 Join Geri Halliwell-Horner for an empowering adventure and competition!
Friday 20th October, 11AM
Join Geri Halliwell-Horner for an empowering adventure and competition
It's time to find your power with iconic Spice Girl and gripping children's author Geri Halliwell-Horner.
Join Geri to get inspired by Rosie Frost and the Falcon Queen, her story filled with empowerment, adventure, history and a new kind of hero.
"A brilliant read, so inventive and exciting" Jacqueline Wilson
When Rosie Frost is sent to Bloodstone Island—home to a school for extraordinary children and a sanctuary for endangered species – she must navigate friendships, secrets, danger and the mysterious Falcon Queen Games…
Find out about The Falcon Queen Rules and enter our competition to create your own Rule for life!
Free cross-curricular teaching resources show how the themes of history, nature and adventure can be used in the classroom.
Password: ROSIEFROST
Register now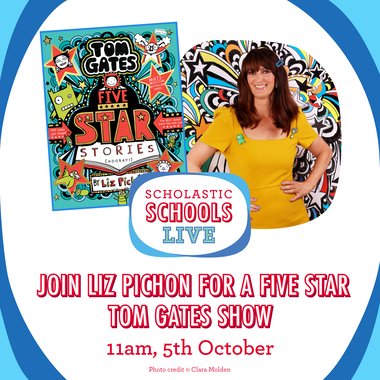 Join Liz Pichon for a

FIVE STAR

Tom Gates show
Thursday 5th October, 11AM
Amazing author-illustrator Liz Pichon presents a doodle-tastic event to celebrate brand-new book Tom Gates: Five Star Stories (Hooray) and tell you about the first ever Tom Gates story competition! Expect stories, doodling and tons of tips to get your class inspired.
Password: FIVESTARSTORIES
Register now
---