Scholastic Schools Live: Virtual reading events for Scholastic schools
Celebrate reading with your favourite authors and illustrators! Join us for a programme of virtual events for primary schools. Featuring writing workshops, drawalongs and more, there are regular events running for all ages throughout the school term. Read our frequently asked questions.
When you register for an event, you will also receive an exclusive discount code for the book that the event is about if you opt in to receive emails from Scholastic.
Sign up to the latest events here! To stay informed about our future events, make sure you're signed up to the Scholastic newsletter.
---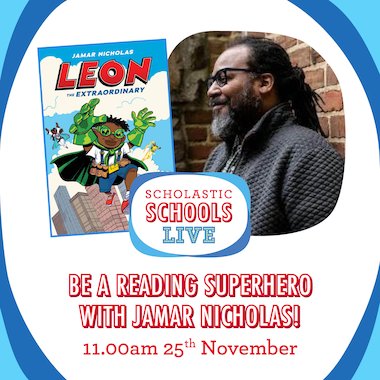 Be a Reading Superhero with Jamar Nicholas!
Friday 25th November, 11am
Join graphic novelist Jamar Nicholas for a fun pre-recorded session inspired by his new graphic novel Leon the Extraordinary! Leon is an ordinary kid who becomes extraordinary when he fights a supervillain to save his school! In the city where Leon lives, superheroes – and supervillains – are commonplace. So how does an ordinary kid like Leon, who has no superpowers himself, become the superhero he wants to be?
Jamar Nicholas is an award-winning, Philadelphia-based artist and educator, dedicating his areer to helping young people realize the power of visual narrative. Jamar aims to bring awareness to anti-bullying, healing, and positive images of people of colour with the idea that everyone can be a hero.
Password: SUPERHERO
Register now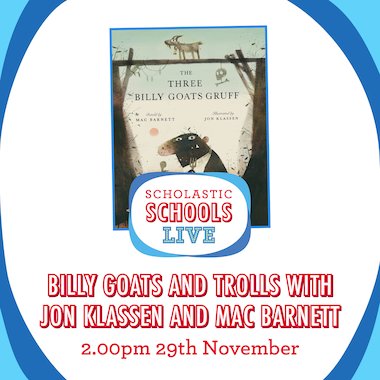 Billy Goats and Trolls with Jon Klassen and Mac Barnett
Tuesday 29th November, 2pm
Join the acclaimed writing and illustrating duo Mac Barnett and Jon Klassen. Mac and Jon are the team behind books including the Shape picture book trilogy, Sam and Dave Dig a Hole, and more. Now is your chance to hear more about their creative process, and all about their new book The Three Billy Goats Gruff. In this first book in a new series of fairy tale rewrites, the goats and the troll are getting a hilarious and creative twist on their original story!
Password: BILLYGOATS
Register now
---
Scholastic's Winter Reading Festival
---