Cathy Cassidy
Biography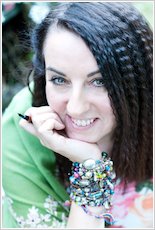 Cathy Cassidy's stirring teen novels have a huge following. Their optimism, realism and empathy explain their popularity, especially with girls, and are perfect for fans of Jacqueline Wilson.
More about Cathy: "I was born in 1962 in Coventry (scarily ancient, I know!). I wrote my first picture book for my little brother when I was eight or nine. I loved making comics, too – pages and pages of picture stories, features and competitions. I'd sell my homemade comic to a friend for 5p, then claim it back and sell it again to someone else,they didn't have photocopiers back then!
I went to Art College in Liverpool, then got a job as fiction editor on the fab and legendary Jackie magazine. Later, I married my boyfriend Liam, went back to college and trained to be an art teacher. I taught in a Coventry secondary school for a few years, which I loved, then moved to Scotland with Liam to start a family.
My kids are 13 and 14 years old now, and the four of us live in a cottage in the Galloway hills with sheep and cows for neighbours. As well as writing books, I am the agony aunt on Shout magazine and sometimes teach art in the local primary schools, which is great fun and keeps me sane. (Well, maybe!)
I've been veggie for 30 years, and was vegan for 8 of them – a chocolate-eating vegan, like Storm! I love old clothes, old toys, cars, books. We have three cats, two rabbits and a mad, hairy lurcher called Kelpie (the model for Leggit in my book Dizzy).
I love my family, I love living in the middle of nowhere and I love my work. Of all my jobs, writing has to be the best – it's the perfect excuse to daydream, after all!"
Series
by Cathy Cassidy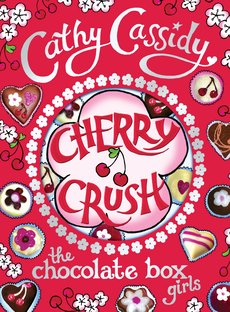 Awards
won by Cathy Cassidy
Cathy won the Royal Mail Award for Scottish Children's Books for Scarlett in 2007, the Lincolnshire Young People's Book Award in 2009 and the 2013 Doncaster Book Award for Summer's Dream. She was also crowned Queen of Teen in 2010.
Cathy talks!
Last Autumn we asked you to put your questions to Cathy Cassidy. Ten lucky winners were chosen and each received a special signed copy of Summer's Dream and a beautiful friendship bracelet made by Cathy herself. Read on to find out what Cathy had to say….
What's the most amazing thing about your job? Rebecca
I get paid to daydream… well, kind of! Daydreaming is how all my best stories start out. I love meeting my readers, too… there are lots of amazing things, really!
Do you have a ritual which you carry out before you start writing each day? Sophie
I have recently moved house and now have a lovely writing room with all my favourite things in it. In the mornings I walk the dogs in the park, have breakfast make a cup of herb tea and shut myself away to write… with my dogs curled up nearby. If I get stuck, I can look out of the window and see the lake in the park, and sometimes spot the swans swimming on it…
How did you spend your summers as a teenager; hanging out with friends, writing, or something totally different? Ashleigh
A bit of both! I'd plan town trips, picnics, swimming and bike rides with my friends, but I also spent lots of time holed up in my bedroom bashing out stories on a borrowed typewriter. Reality was never quite as cool as fantasy, somehow!
How would you describe yourself from when you were a teenager, and has it changed from how you are now? Safa
I was very shy and awkward, and didn't have much confidence. I'm still quite shy, but I've learned that I can survive the scariest of things, like talking to a theatre with hundreds of kids in the audience or even being on TV or radio! It has been a very steep learning curve, but it's great to step outside of your comfort zone now and then. I wish I'd known that as a teen! I like writing about characters who feel they are 'on the edge' of the crowd, so maybe that stems from back then, too!
When you were younger were you ever been pushed into things you didn't want to be by your friends? Rheannon
Once or twice, maybe. I always knew when I was out of my depth because I'd get quite anxious, and I didn't like that feeling, so I would speak out and say no when I needed to. I am generally fairly quiet but I do have strong views and beliefs, and to this day I will speak out if I think something isn't right. Any friends who push you to do something you don't want to are not friends at all.
How does it feel now you've sold more than a million copies of your books and you've got your own website? And what did you feel when your first book was published? I bet you were over the moon and ecstatic! Ruby
I was over the moon when my first book was published – it had been my dream since forever! I had a website right at the start, but it was very home-made to begin with, and over the years it has grown and evolved according to what my readers wanted/ needed it to be. These days it is very snazzy and cool, with lots of input from the clever techy people at Puffin – I love it. As for selling a million books, that's something I never think about – I'm not good with numbers so my brain just freezes over at the thought! Awesome, really.
What is the most-read book on your bookshelf? Ella
At the moment, it's a yoga book – I'm trying to get back into yoga after a long time not doing any, so I study the book every day to make sure I am getting it right!
What is your favourite memory with your best friend, and why? Jennifer
I have two best friends, so two memories! The first is the day I made friends with Helen. We both started teaching at the same big secondary school and one day got chatting at the bus stop on way home. We were still talking by the time we got to town so she took me to a cafe and ordered hot chocolate fudge cake with ice cream… I'd never eaten it before. (How could I have lived without it?) I knew she was a one-in-a-million friend and we've been close ever since. My other best pal Sheena lives in France these days, so I don't see her as often as I'd like. A favourite memory is going for a long bike ride through French country lanes with her, then having a picnic in the sunshine in a field of sunflowers. It was just one of those perfect days you wish could last forever!
If you were to write a sequel to one of your books, which would it be? Angeline
Scarlett, I think – lots of people have asked for one. Maybe one day!
What would be your summer dream? Morgan
It would involve lots of friends staying and a busy schedule of music festivals, picnics, bonfire parties and fun… and the sun would always shine!
Cathy answers your questions!
1. I'm a bit of a daydreamer but my teacher says I need to concentrate if I am to write well. Do you get your ideas by daydreaming or concentrating? Megan, age 10
Ideas are often gathered in from observation of what's going on around me, but daydreaming is what makes those ideas and fragments of inspiration into a story. Daydreaming is exercise for the imagination… without it, I wouldn't be writing stories at all! (The concentrating bit is important too, but that comes later, when you have to put it all down on paper…!)
2. Who is your favourite literary character and why? Eve, age 10
Hmm… there were lots of literary heroines I loved when I was growing up, from Pippi Longstocking to Alice in Wonderland; Anne of Green Gables to Katy Carr; Nancy from Swallows & Amazons to Charlotte in Charlotte Sometimes... but my favourite of all has to be Laura from the Little House books by Laura Ingalls Wilder. She was very real to me, and I loved the story of her childhood in the 19th century American west.
3. If you were a superhero, what would you be called and what would your powers be? Charlotte, age 12
I'd be called DreamCatcher, and I'd fly around after dark catching hopes and dreams and making them come true. Hmmm… could be a book idea there!
4. Which of your books related to you the most in your teenage years and how did your experience inspire that book? Ha Hoang, age 12
The only character that is really based on me as a child is Daizy from the Daizy Star series. She's chaotic, clumsy and always on the hunt for her star-quality… and she has a very embarrassing Dad! My dad was full of wonderful, crazy ideas too, so I guess I have a lot in common with Daizy! The older books are definitely fiction, but the characters I am closest to in terms of personality are the quiet, dreamy ones like Hannah, Jude and Skye…
5. How were you inspired to write many, many books that include different people with different backgrounds? Every story is different to another, but I still think there is a very strong bond between them. Maryam, age 12
We are all different – that's what makes human beings so cool, so unique – and I love to write about characters who are not afraid to be true to themselves. I celebrate the differences, but I also feel that underneath the surface we're not so different after all… we all feel happy/ sad/ lonely/ sacred at times. Feelings are what unite us, what we have in common, and they're also what link the books together.
6. If the Earth was invaded by aliens and you could only take three of your things to safety, what three items would they be? Shakira, age 12
If it has to be actual THINGS rather than people or animals, I'd choose my laptop, my green velvet 1930s dress and a very motheaten but loveable dog-on-wheels toy my daughter got for me from eBay last Christmas. Really, though, nothing is as important as the people and animals you love.
7. Will any of your books be made into films and what was your favourite book when you were a child? (Sorry I chose two questions I couldn't decide!) Megan, age 11
Lol, that's OK Megan! I'd love it if some of the books were made into films or TV… that would be amazing! Even better if my readers got to audition for the main parts! There are no plans yet, but if anyone out there is pals with Steven Spielberg, just drop me a line! My favourite book as a child… hmmm, almost impossible to choose just one, but I'll go for Watership Down by Richard Adams, the book that finally taught me that reading was cool!
8. If you could live the life of one on your characters, who would it be and why? Reema, age 14
I'd quite like to be Charlotte, the mum from Cherry Crush and Marshmallow Skye in my Chocolate Box Girls series. She lives in a beautiful, rambling old house on the edge of a cliff in Somerset, she's cool and beautiful (I wish!!!), she has five fab daughters, a lovely husband… AND she runs her own chocolate business. What's not to like?
9. Who inspired you to write books and have you always loved reading from a young age? Antonia, age 13
I have always loved reading, and my dad always encouraged that – we used to haunt the libraries in my old hometown, borrowing armfuls of books each time. As for writing, though, that was the next logical step for someone who loved inventing characters and stories in her head. As soon as I knew you could create a new world and new characters with a story, I was hooked.
10. Has writing about chocolate made you an ever bigger chocoholic or put you right off? Hannah, age 13
I wish it had cured me of my chocolate addiction, Hannah, but I don't think that will ever happen! I love chocolate and I can't really complain… it did inspire the Chocolate Box Girls series, after all!
xxx
Interview with Cathy Cassidy
When did you start writing?
When I was about eight I made a picture book for my little brother about a very tall sunflower. When I was about eleven, I wrote adventure stories inspired by Swallows and Amazons, and as a teenager I sent dozens and dozens of stories to a magazine called Jackie. They sent back dozens and dozens of very polite rejection letters. At 16, I had a story published by a magazine called Look Now. I can't remember it well, but I think it was very slushy and sad.
Where do you get your ideas and inspiration from?
Everywhere! Sad things, strange things, funny things, weird things. I love to people-watch, and I love to daydream. I store away fragments of dreams, things that happen, things I see or hear that make me smile. Some of them surface later in my stories.
Can you give your top 3 tips to becoming a successful author?
1. Don't listen to the people who say you can't do it – if you want to do something badly enough, you can. When I was 15, I was asked in a French Oral exam what I wanted to be when I grew up. I said I wanted to be a writer and an artist. The examiner laughed out loud. Don't listen to negative people – go for your dream!
2. Live life to the full – have adventures, have fun, be happy, be sad. Never be afraid of your feelings. Write about what you care about, what moves you – put your feelings into your work.
3. Read like crazy, and write – every day, if you can. These are the best ways to learn your trade. Hopefully, one day other people will be reading your work!
Favourite memory
Wearing sticky-out 50's frocks in Liverpool when I was an art student; the fireworks, the Toblerones and the chocolate wedding cake when Liam and I got married; seeing my babies for the first time.
Favourite place in the world and why?
The Bay at the Back of the Ocean on the Isle of Iona, because it feels like you're on the edge of the world; the Fairy Glen on the Isle of Skye because it makes you believe in magic; and my cottage in Galloway, because it's full of the people, animals and things that I love best.
What are your hobbies?
Walking my gangly lurcher-dog; swimming; eating chocolate; reading; drawing; collecting old toys, books and clothes; trying to control my unruly garden.
If you hadn't been a writer what do you think you would have been?
I also work as an Agony Aunt for the pre-teen mag Shout and as a visiting art teacher for six rural primary schools in Galloway. So, I'd keep on doing those jobs – and maybe try a few more! I'd like to run an animal sanctuary or sit in an attic weaving big, romantic tapestries or make appliqué pictures out of old dresses. The list is endless!