Book of the Month
Every month our Book Club editors choose a Book of the Month for each age range – the perfect stories to share at home or in the classroom. Here are our literacy experts' top picks for July 2020.

Ages 0–2 Book of the Month
Time for School, Baby Shark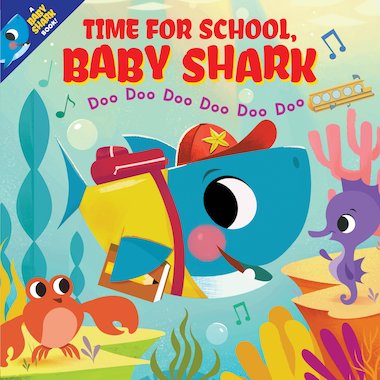 "This month I've selected Time for School, Baby Shark as our 0–2 Book of the Month choice. 'The first day is here and all through the ocean, the creatures are buzzing with school-day commotion!'

Baby Shark has been a worldwide phenomenon, with kids (and even some parents!) enjoying the original Baby Shark book and song. In the third book in this series, Baby Shark introduces your child to the idea of a school day in a fun and reassuring way, with really big, bright and bold illustrations with eye-popping colours to stimulate and engage those special little people. The repetition in the text is a great way to help a child learn basic vocabulary by building a familiarity with simple words.

A colourful cast of shark characters spark the imagination as we get ready to meet the teacher, find your place, join in story time and, most importantly, make a new friend. Encourage little ones to join in with the chant, sing aloud and perform the action rhymes (shown for you). A perfect choice to put a smile on any face and get them sharing and interacting with books from a young age."
– Yvonne, Book Club Editor, Ages 0–6
Ages 3–4 Book of the Month
Now Wash Your Hands!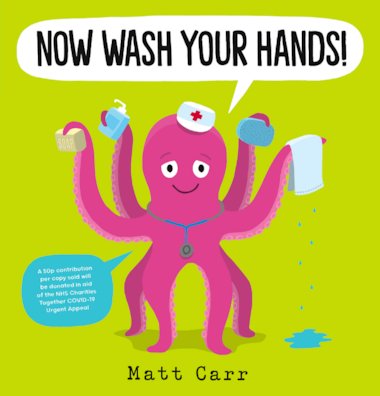 "We all know the importance of hygiene and washing our hands, now more than ever. Getting youngsters into the routine can sometimes be a bit of a challenge and may need a little extra encouragement – if I had a penny for every time I've had to nudge my older children during the last few months! But don't worry – Doris the Doctorpus is on call to give us a helping hand and explain it all in a very accessible way that taps into the Early Years curriculum. And did I mention, she is just adorable?

Set in a classroom, Doris arrives at school to teach the class that they need to wash their hands because of something very, very small called GERMS and how washing your hands can send germs packing. She's even got her very own hand-washing song. Every eventuality is covered – after touching things and animals, washing before you eat, after the inevitable toilet breaks – and Matt Carr's artwork is delightfully appealing, with expressive and bright artwork just bursting with colour. Informative but fun with a lovely rhyming read-aloud text, it's a wonderful story to share in preschool class settings. This book has a lightness of touch but still manages to convey this important message and is a brilliant way to communicate information around good hygiene practices at home or school."
– Yvonne, Book Club Editor, Ages 0–6
Ages 5–6 Book of the Month
The Smeds and the Smoos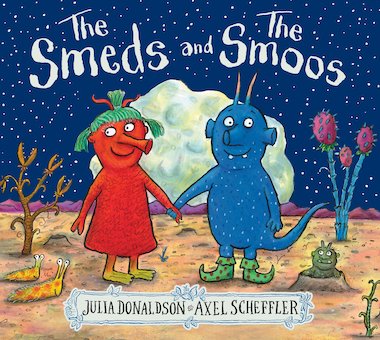 Winner of the British Book Awards Children's Illustrated & Non-fiction Book of the Year 2020.
"I can't recommend this book enough. I feel Julia and Axel need no introduction, as they really are THE ultimate and bestselling picture book dream team. This wonderful tale tells the story of two aliens, a red Smed and a blue Smoo, who have been told by their families they should never play together. Told in Donaldson's trademark rhyming verse, this is one of their strongest tales ever and one that conveys an important message around some of the issues we face today; it's about tolerance, avoiding preconceptions, understanding differences and building positive relationships in this wonderful shared world we live in. Axel's inimitable illustrations convey such meaning and his rich use of colour really add an extra dimension to Julia's text, which is perfect to read aloud or for fledgling readers to attempt to read alone.

Build kids' curiosity and get them involved in starting conversations and asking questions in the class or at home around diversity and celebrating differences through a great reading experience. Ask them to predict the outcome (spoiler alert – there is a gorgeous purple baby!) One to ignite a passion in reading for pleasure, so timely, relevant and thought-provoking. A great addition to any library and offers plenty of scope for discussing topics of empathy and your place within the world."
– Yvonne, Book Club Editor, Ages 0–6
Ages 7–8 Book of the Month
Dog Man: For Whom the Ball Rolls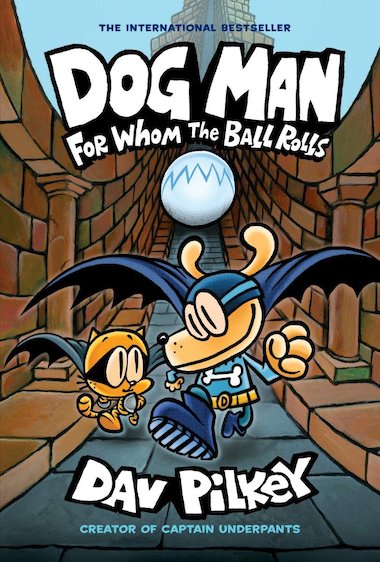 "My Book of the Month pick for 7–8-year-olds is the seventh instalment in the Dog Man series, Dog Man: For Whom the Ball Rolls! From children's firm favourite Dav Pilkey, author and illustrator of the worldwide bestselling Captain Underpants series which kids will also recognise from film and TV. This hilarious adventure from a crime-fighting half human, half dog and his unlikely cat sidekick has all the ingredients to make kids howl with laughter. At the same time it also teaches children important morals, with book seven focusing primarily on overcoming bad habits and understanding the difference between being good and doing good.

The Dog Man series as a whole explores universally positive themes, including empathy, kindness, persistence and the importance of being true to one's self. The full-colour, comic book-style pages make it easy to read the text alongside the pictures, and makes it easily accessible to readers of all ages."
– Su, Book Club Editor, Ages 7–11+
Ages 9–10 Book of the Month
The Baby-Sitters Club: Kristy's Great Idea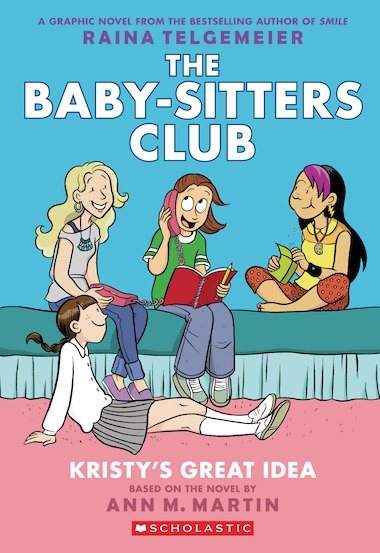 "For 9–10-year-olds, our Book of the Month pick for July is The Babysitter's Club: Kristy's Great Idea! Kristy, Mary Anne, Claudia, and Stacey are best friends and founding members of The Babysitter's Club. Whatever comes up – cranky toddlers, huge dogs, scary neighbours, prank calls – you can count on them to save the day. Babysitting isn't always easy though, and neither is dealing with strict parents, new families, fashion emergencies, and mysterious secrets. But no matter what, the BSC have what they need most: friendship.

A timeless series that has and will be cherished for generations, the first book in The Babysitter's Club series is one that both kids and parents will love to read together. Multiple award-winning Raina Telgemeier, author and illustrator of Smile, Sisters, Drama, Ghost and Guts, uses her signature graphic novel style to perfectly capture the drama and humour of Ann M. Martin's original novel. The full-colour, graphic novel pages also make it extremely accessible and easy to read. It is also soon to be a major Netflix series so entice children to read now ahead of the release!"
– Su, Book Club Editor, Ages 7–11+
Ages 11+ Book of the Month
A Life Story: David Attenborough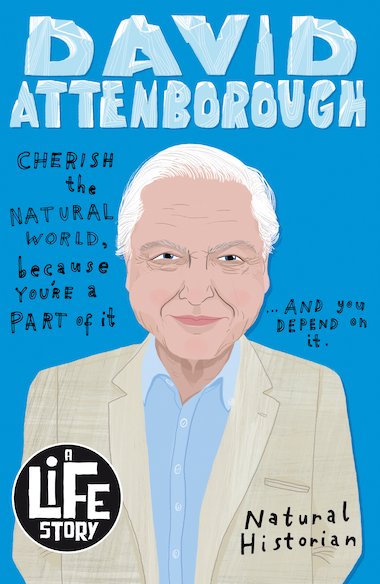 "Widely considered a national treasure, David Attenborough has introduced millions of children and adults alike to some of the world's rarest creatures, that without him we may never have seen. Programmes like Planet Earth, Blue Planet and Our Planet are firm family favourites that are both entertaining and educational.

In A Life Story: David Attenborough, the reader is thrown directly into the life of the explorer, broadcaster and natural historian, and can explore the beauty of the world we inhabit with him. Striking black and white illustrations throughout will keep the reader engaged and expand upon the text. Timelines and never-heard-before facts also make it highly educational. Author Lizzie Huxley-Jones works as a sensitivity reader and consultant, so she's perfectly adept in writing for children. Her past jobs include being a research diver and a children's bookseller, so she's both an expert on the topic and on what children love to read!"
– Su, Book Club Editor, Ages 7–11+
Teen Book of the Month
Clap When You Land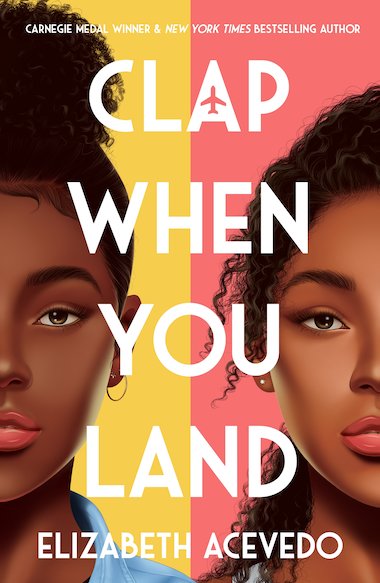 "Off the back of 2020 Carnegie winner being announced, our July Book of the Month for teens and young adults is Clap When You Land, the stunning new novel by Elizabeth Acevedo, whose book The Poet X won the 2019 Carnegie Prize. Camino Rios lives for the summers when her father visits her in the Dominican Republic and heads to the airport to collect him. In New York City, Yahaira Rios goes about her day as normal until she is called to the principal's office. An ocean apart, the two girls learnt that their father has died in a plane crash. Papi's death uncovers all the painful truths he kept hidden, and when it seems like they've lost everything of their father, they learn of each other. Set after the real-life crash of American Airlines Flight 587 from New York to the Dominican Republic in 2001 that sadly had 260 fatalities.

The searing dual narrative novel is written in slam poetry champion Acevedo's signature verse style. She tackles extremely difficult issues such as love and loss, grief, forgiveness and bittersweet bonds between us. It also touches upon important topics of LGBTQ+ identity and the exploitation of young girls in the Dominican Republic. Please note this book contains mature content and language more suitable for older readers, however we feel it is younger in content than The Poet X."
– Su, Book Club Editor, Ages 7–11+