Scholastic CPD Training and Workshops | Creating and Using a Reading Spine with Pie Corbett
Creating and Using a Reading Spine with Pie Corbett
Join our free one hour
CPD

workshop with literacy expert Pie Corbett on 15th September at 3.45pm to find out how you can create and use a Reading Spine in your school.

Discover how you can develop and implement a rich, text-based reading curriculum to support children to become motivated and independent readers.

Register with the password

READINGSPINE




---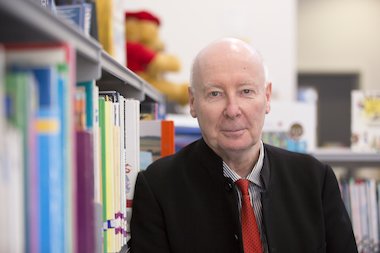 Pie Corbett is an educationalist, literacy expert and author, well known for his books on teaching creative writing, as well as many other books, schemes and anthologies.
Browse resources curated by Pie Corbett
Pie Corbett's Reading Spine
Pie Corbett's Reading Spine is a core of books that create a living library inside a child's mind. It is a store of classics and essential reads that help children engage at a deeper level and enter the world of the story.
Bring reading to life with a classic read aloud programme, selected by literacy expert Pie Corbett
Foster a love of reading with the best-loved books for Nursery to Year 9
Deepen comprehension and teach drama and writing by drawing on the core books
Find all the support you need to deliver Pie Corbett's Reading Spine in the Teacher's Guide, which outlines six steps towards creating a Reading Spine in your school.
Imagine a primary school where, over seven or eight years, children are read to, enjoy, discuss and work with a core of around 80 books. These 'essential reads' would be a store of classics, creating a living library inside a child's mind. This is the 'reading spine'. Schools that have a reading spine build a common bank of stories that bind the community together." Pie Corbett, Literacy expert
Receive an exclusive discount code for class packs of Pie's recommended class reads when you register for the event and tick the box to sign up to receive emails from us.
---