Scholastic Schools Live | The 12 Days of Cracking Christmas Reading | Writing Festive Letters with Bethany Walker
The 12 Days of Cracking Christmas Reading: Writing Festive Letters with Bethany Walker
Wednesday 8th December, 11am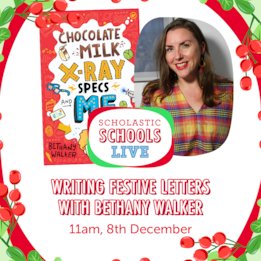 Join debut author and letter-enthusiast Bethany Walker for a sprout-tastic letter-writing workshop, inspired by her book, Chocolate Milk, X-Ray Specs and Me! After discovering ways to come up with weird and wonderful spy gadgets, classes will look at inference and learn how to write thank-you letters in character. This workshop will equip pupils with tips and tools for becoming fantastic future letter writers, whether writing persuasive letters to Santa or thank-you notes for the most surprising gifts! Please bring paper and pencils to this event.
Suitable for ages 7+.
Register with the password

CHRISTMAS

.
---
Books by Bethany Walker
Chocolate Milk, X-Ray Specs & Me!
Pamela Butchart meets Sam Copeland – like if Charlie changed into a chicken AND NEVER REALISES IT, in this hilarious, fantastic debut by Bethany Walker. 10-year-old Freddy Spicer writes letters to his parents – who he believes are working at a Brussels-sprouts farm in Outer Castonga, with no internet or phone access. In fact, Freddy's parents are secret agents out of the country on a highly classified mission – but Freddy has NO IDEA! Throw in:
Grandad's X-Ray specs;
A laser blaster that accidentally destroys the shed;
A strange new neighbour flirting with grandad; and
Suspicious goings-on at school…
Laugh-out-loud, high energy, fully illustrated fun for young readers!
---