Scholastic Schools Live | World Book Day Event Week | You can doodle with The Doodle Boy!
World Book Day Event Week: You can doodle with The Doodle Boy!
Friday 4th March, 11am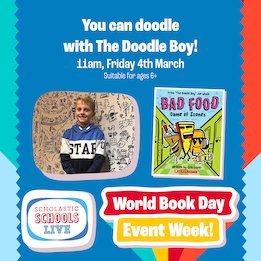 Joe Whale
AKA

the Doodle Boy is a twelve-year-old boy from the UK whose artwork went viral after he was commissioned by a local restaurant to decorate an eight-foot wall. Since then, he has been interviewed by the Insider and appeared on Ellen Degeneres's Little Big Shots. In this special pre-recorded event you will learn more about the Doodle Boy's journey to fame and his new book series, Bad Food: Game of Scones.
Suitable for ages 5+.
Register with the password

WORLDBOOKDAY

.
---
Books by The Doodle Boy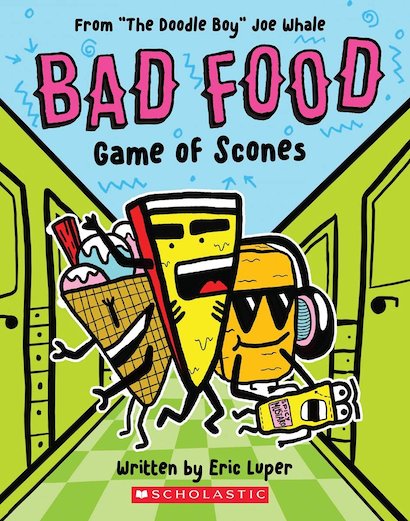 Bad Food: Game of Scones
An all-new original series featuring the art of viral sensation Joe Whale, AKA the Doodle Boy, and fan-favourite Eric Luper! Somewhere deep within the walk-in pantry at Belching Walrus Elementary lives an array of different foods that live in harmony. There are baskets of fruits and veggies, a cooler filled with chocolate milks and apple juices, and a freezer for ice-creams and yet-to-be-nuked chicken fingers. One day, the Supplies from the Principal's office show up and insist on sharing the coolness of the cooler. Their ruler is a ruler (pun intended) named Baron von Lineal. The Baron argues that they work harder than anyone in Belching Walrus Elementary while food just sits around. As such, the residents of the pantry have no choice but to open their doors. Anyhow, there's plenty of room in the cooler for everyone, right? Wrong! The Baron and his cohorts take over the pantry in no time! To free their fellow food, it's up to three young heroes Slice, Scoop and Totz to venture out of the pantry and foil the Baron's plan for good. It's an epic, hilarious story kids will love This fun, imaginative series will spur the creativity of kids Highly illustrated with big black-and-white pictures from Joey on every page, this series will be sure to resonate with kids everywhere!
---