Scholastic Schools Live | Gina Blaxill
Scholastic Schools Live: How to Add Your Own Twist to a Fairytale with Gina Blaxill
Friday 22nd October, 11am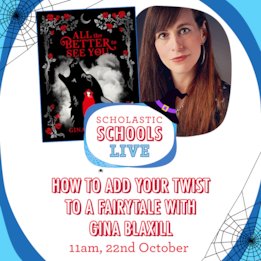 Join Gina Blaxill for a writing workshop inspired by her latest book, All the Better to See You – the story of Little Red Riding Hood, with a twist. Gina will explore different adaptations of classic fairy tales and show you how to add your own spin to a fairy tale. She will also read an extract from All the Better to See You.
Gina Blaxill is a Carnegie nominated YA thriller writer. She lives in Essex with her family and two imperious cats.
Suitable for ages 11+.
Register with the password

FAIRYTALE

.
---
Books by Gina Blaxill
All The Better To See You
Legend tells of a fearsome wolf who stalks the forest.
Red is well versed in the stories of the beast who preys on unsuspecting travellers and yet she pays them no mind. But then, Red has always been different.
Suddenly whispers of the wolf become more frequent and townspeople are attacked in their homes. It seems this is no ordinary wolf. Rumours run wild and people begin suspecting one another.
But when you don't know who to fear, how can you protect yourself? This story might not end happily ever after . . .
---