Scholastic Schools Live | Ian Wright and Musa Okwonga
Real life stories and reaching your goals with Ian Wright and Musa Okwonga
Tuesday 19th October, 11am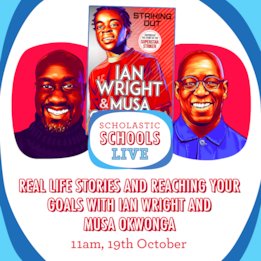 Join superstar Ian Wright and poet and author Musa Okwonga to hear about their new book Striking Out. Based on Ian's childhood, hear from Ian and Musa how they put the story together, hear inspiring stories and get some story writing tips!
Suitable for ages 9+.
Register with the password

STRIKINGOUT

.
---
Books by Ian Wright and Musa Okwonga
Striking Out
From the winning writing team of Ian Wright and Musa Okwonga. Inspired by the story of the superstar striker, Ian Wright.
Thirteen-year-old Jerome Jackson dreams of becoming a world-class footballer. But with a difficult home life, Jerome can't see how he'll ever make this dream come true … until he meets a mentor figure who can hopefully put him on the right track. "The best strikers aren't the most skilful ones. They are the ones who never give up."
---