Scholastic Schools Live | Laugh Out Loud with the Lollies and Tom Vaughan
Laugh Out Loud with the Lollies and Tom Vaughan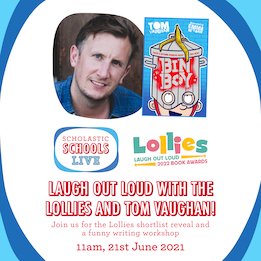 Join us for the Lollies shortlist reveal and a funny writing workshop at 11am on the 21st June!
The Laugh Out Loud Book Awards, also known as the Lollies, celebrates the very funniest children's books in the UK and Ireland. The best part is, the winners are voted for by
YOU

! Join us to find out which hilarious books are on the shortlist this year and how to cast your vote.
Author Tom Vaughan will also be joining us to teach
YOU

how to be super funny, just like the authors on our amazing shortlist! Tom is the author of the brilliantly funny Bin Boy, a book about a boy called Billy who discovers his step-dad is a super villain with an evil plan to destroy the world. Tom will be helping you design your own supervillain characters and giving top tips for writing comedy.
Suitable for ages 8+.
Register with the password

LAUGHOUTLOUD

.
---
Books by Tom Vaughan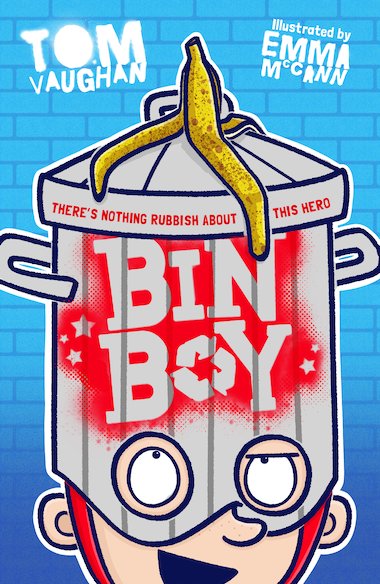 Bin Boy
Many children think their step-parents are super-villains . . . but what if they really were?
10-year-old Billy's mum has just re-married, and his new step-dad Phil is smarmy and try-hard… Even if he is super rich. On top of that, Billy – and his best-friend Viv – are so unpopular at school, only the IT Club rank below them in the school food-chain. And, the school bully keeps throwing bins at Billy's head.
So, when Billy discovers his step-dad is a super-villain with an evil plan to destroy the entire world, it is the perfect excuse to break Phil and his mum up. But gathering evidence about a super-villain is harder than it looks, and when Billy accidentally becomes 'Bin Boy' – a superhero sensation – things become a whole lot more complicated.
Suddenly the fate of the global population is on Bin Boy's shoulders. Can he save his family and the entire world?!
A story of friendship, pizza, fizzy drinks, a super-hacker, a volcano secret-lair, excellent technological wonderment, a platinum-toothed crocodile… And a superhero sensation!
---