Scholastic Schools Live | Lollies Event Week | Humza Arshad and Aleksei Bitskoff
Laugh Out Loud Book Awards Event Week: Humza Arshad and Aleksei Bitskoff, Little Badman and the Invasion of the Killer Aunties
Tuesday 21st September, 10:30am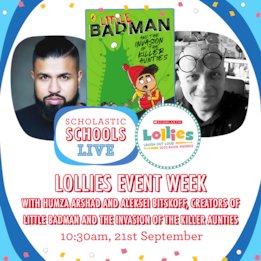 Humza Arshad and Aleksei Bitskoff, author and illustrator of Lollies ages 9-13 shortlisted book Little Badman and the Invasion of the Killer Aunties, will be answering your questions and showing you how to draw characters from the book. Don't forget a pencil and paper!
Please email your questions for Humza in advance to laughoutloud@scholastic.co.uk with the subject line 'Lollies question – Humza Arshad'.
Humza Arshad is one of the UK's most popular and important British Asian personalities. After graduating from Richmond Drama School, Arshad wrote, directed and edited an episode called Diary of a Badman. Over 90 million views of the series later, Humza became the first British YouTuber to have his own scripted comedy series on

BBC

Three in the mockumentary series Coconut. Equally important to Humza has been using his influence and comedy for greater purpose. In 2015, Humza partnered with the UK Counter Terrorism Unit and he is YouTube's first ambassador for the Creators for Change campaign. Humza has spoken and shared the stage with the likes of Will Smith, YouTube

CEO

Susan Wojcicki, Kevin Hart and Whoopi Goldberg.
Born in Estonia, Aleksei Bitskoff was always a compulsive doodler and after an inspirational trip to Nepal where he discovered Buddhist meditation techniques he decided to study Illustration in the UK, attending

LCC

and Camberwell College of Arts. Aleksei's finely detailed characters and imaginative worlds continue to fill his sketchbooks as well as adorn the covers and pages of many children's fiction titles in the UK and

USA

. He illustrates the best-selling series Little Badman by Humza Arshad and Henry White and has created concept designs for an interactive play space at Discover Children's Story Centre in London. He lives in Surrey with his young family.
Suitable for ages 9+. Please note that Aleksei Bitskoff's section of the event will be pre-recorded.
Register with the password

LAUGHOUTLOUD

.
---
Books by Humza Arshad and Aleksei Bitskoff
Little Badman and the Invasion of the Killer Aunties
The first novel in a hilarious new series for children from Humza Arshad and comedy writer Henry White.
Humza Khan, he is the greatest eleven-year-old rapper Eggington has ever known: he is Little Badman and he is destined to be rich and famous. But when Humza's music teacher is taken ill his dreams are put on hold. His Auntie has stepped in as substitute, and nobody seems to care about the unorthodox teaching because of the endless sweet treats. As other teachers start to disappear, with more Aunties appearing in their place, Humza knows something isn't right. With the help of his elderly Uncle and friends Umer and Wendy, Humza discover that the suspicious Aunties might not be as friendly as they seem. Now he must find a way to destroy them before they take over the world…
Little Badman is a funny and fast-paced adventure story created by comedy duo Humza Arshad and Henry White and with illustrations from Aleksei Bitskoff. Full of mischief, silliness and with a delightful cast of characters, this series is sure to appeal to fans of David Solomons and David Baddiel.
---