Scholastic Schools Live | Lollies Event Week | Izzi Howell
Laugh Out Loud Book Awards Event Week: Izzi Howell, Cats React to Science Facts
Monday 20th September, 2pm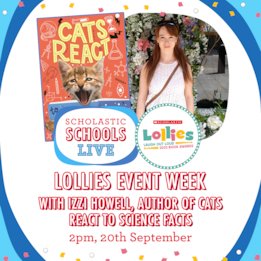 Izzi Howell, author of Lollies ages 6-8 shortlisted book Cats React to Science Facts, will be sharing her very best science facts with us – and answering your questions!
Izzi Howell is the author and editor of over fifty children's books. She lives in East Sussex and enjoys learning languages, cooking and travelling around Europe. Izzi, and her book Cats React to Science Facts won the 2020 Royal Society Young People's Book Prize, an award that aims to promote literacy and inspire a love of science.
Suitable for ages 6+.
Register with the password

LAUGHOUTLOUD

.
---
Books by Izzi Howell
Cats React to Science Facts
Share in the wonderment of science with a crew of crazy cats and measure your amazement, awe and disgust alongside their furry feline faces!
Like every topic, science becomes more interesting when cats are involved. Cats React to Science Facts is an engaging and fun way to understand the world of science. It's just purrfect! A vast cast of feline friends take us on a tour of the core areas of science from outer space and the human body, to forces and materials. Bitesize text, fun photos, diagrams, dollops of humour and a react-o-meter all help to make science memorable and fun to learn.
This book is a great gift for cat lovers and science students, covering key science topics in a unique way.
---