Scholastic Schools Live | Lollies Event Week | Joseph Coelho and Freya Hartas
Laugh Out Loud Book Awards Event Week: Joseph Coelho and Freya Hartas, Fairy Tales Gone Bad: Zombierella
Wednesday 22nd September, 9:30am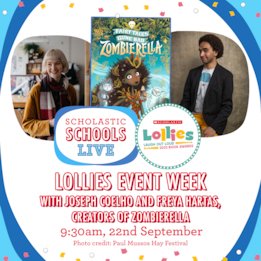 Joseph Coelho and Freya Hartas, author and illustrator of Lollies ages 9-13 shortlisted book Fairy Tales Gone Bad: Zombierella, will be reading from the book and answering your questions. You will also have the chance to draw along with illustrator Freya Hartas and to create your very own fairy tale (gone bad!) title with author Joseph Coelho. Don't forget your pencil and paper!
Please email your questions in advance to laughoutloud@scholastic.co.uk with the subject line 'Lollies question – Joseph Coelho and Freya Hartas'.
Joseph Coelho is an award-winning poet, playwright and writer from London. His first poetry collection, Werewolf Club Rules!, won the

CLPE

Children's Poetry Award in 2015, and he has been writing and performing ever since. His picture books include If All the World Were… illustrated by Allison Colpoys and Luna Loves Library Day illustrated by Fiona Lumbers. His poetry books for children include Overheard in a Tower Block illustrated by Kate Milner and A Year of Nature Poems illustrated by Kelly Louise Judd. Follow him on Twitter as @Poetryjoe and on Instagram as @josephcoelhoauthor.
Freya Hartas is a UK based illustrator specialising in children's books. She lives in the vibrant city of Bristol with her partner and their ancient black cat Katsu and works from her cosy, cluttered desk in a shared studio down the road. She graduated from Falmouth University with a first-class honours in BA Illustration in 2014. Freya loves to conjure up humorous characters, animals and monsters, creating the most fantastical worlds for them to inhabit and get lost in.
Suitable for ages 9+.
Register with the password

LAUGHOUTLOUD

.
---
Books by Joseph Coelho and Freya Hartas
Fairy Tales Gone Bad: Zombierella
A yellow moon hangs in a satin sky the night Cinderella, barefoot and in hand-me-downs, slips at the top of the stairs … and dies. But not for long. The Shadow of Death arrives to breathe life back into her bones and, for three nights only, Cinderella goes forth as ZOMBIERELLA. With her skin as cold as ice and her faithful horse Lumpkin back by her side, can she seek revenge on her three cruel, fake sisters, once and for all?
Crawl out of the grave and step into your mushroom carriage for this haunting and humorous adventure of the undead girl searching for her happily ever after.
---