Scholastic Schools Live | Lollies Event Week | Michelle Robinson and Tom Knight
Laugh Out Loud Book Awards Event Week: Michelle Robinson and Tom Knight
Thursday 23rd September, 2pm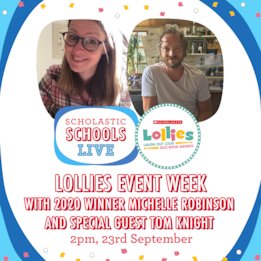 Join Michelle Robinson, winner of the 2020 Lollies, for some laugh-out-loud fun, plus a draw-along with special guest Tom Knight. Michelle will also be reading from her latest hilarious book with Tom, When Cucumber Lost His Cool – Kevin the cucumber is the coolest around, but when he starts to feel left out by his friends, something happens that has never happened before: Kevin. Loses. His.
COOL

!
Michelle Robinson's many picture books include international bestseller, The World Made a Rainbow and the hugely popular Goodnight Tractor series. Her books are popular in homes and classrooms all over the world, and include Ten Fat Sausages, winner of the Laugh Out Loud Book Awards, and There's a Lion in my Cornflakes, winner of the Sainsbury's Children's Book Award. Michelle is either busy writing, busy performing, or busy running around after her kids. She always dreamed of becoming a writer like her hero, Roald Dahl. She shares his birthday and his love of chocolate, but is much, much shorter.
Tom Knight is the talented illustrator behind The Day the Banana Went Bad and Who's Afraid of the Big Bad Bogey. Tom lives in Essex.
Suitable for ages 3+.
Register with the password

LAUGHOUTLOUD

.
---
Books by Michelle Robinson and Tom Knight
---