Scholastic Schools Live | Lollies Event Week | Peter Bently and Steven Lenton
Laugh Out Loud Book Awards Event Week: Peter Bently and Steven Lenton, Octopus Shocktopus!
Tuesday 21st September, 2pm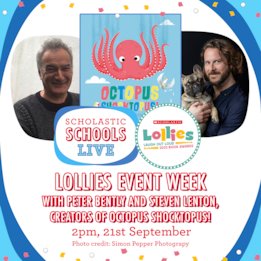 Peter Bently and Steven Lenton, author and illustrator of Lollies picture book shortlisted book Octopus Shocktopus!, will be answering your questions and showing you how to draw characters from the book. Don't forget a pencil and paper!
Peter Bently is the award-winning author of around seventy books for young children. He grew up in an army family and went to ten schools as far apart as Devon, Germany and Hong Kong. Both his parents told him bedtime stories (like the one about Mowberley, the boy who tunnelled to Australia) and he still believes this is crucial in developing a child's imagination and creativity. Over the years, Peter has been a journalist and a non-fiction book editor, but writing stories for children is the job he has enjoyed the most. They are often in rhyme, and often (he hopes) funny. His numerous books include King Jack and the Dragon illustrated by Helen Oxenbury and shortlisted for the Kate Greenaway Medal, as well as being an American Library Association Notable Book of the Year), Cats Ahoy! illustrated by Jim Field and winner of the Roald Dahl Funny Prize, and cult classic The Great Dog Bottom Swap illustrated by Mei Matsuoka. Peter has two children and lives in London with his wife Lucy and daughter Tara.
Steven hails from Cheshire and now works from his studio in Brighton, creating an array of charming characters for his books. Best known for illustrating Shifty McGifty series, written by Tracey Corderoy, he has illustrated many lovely books and wrote his first picture book with Nosy Crow, Princess Daisy and the Dragon and the Nincompoop Knights. Steven also loves to visit schools, festivals and bookshops, encouraging and inspiring his audience to draw, giggle and create!
Suitable for ages 3+.
Register with the password

LAUGHOUTLOUD

.
---
Books by Peter Bently and Steven Lenton
Octopus Shocktopus!
A brilliantly bonkers story about an octopus who lives on the roof, by two award-winning and bestselling picture book creators.
When a giant octopus arrives, the children LOVE their new friend; it makes the perfect slide and is fantastic at football! But some of the grown-ups aren't so pleased. Will they drive it away . . . or will they realise just how helpful an octopus can be?
---