Scholastic Schools Live | Lollies Event Week | Serena Patel and Emma McCann
Laugh Out Loud Book Awards Event Week: Serena Patel and Emma McCann, Anisha, Accidental Detective: School's Cancelled
Thursday 23rd September, 9:30am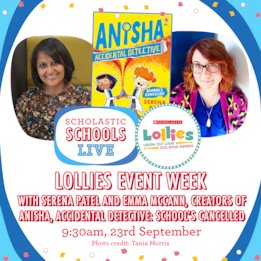 Serena Patel and Emma McCann, author and illustrator of Lollies ages 6-8 shortlisted book Anisha, Accidental Detective: School's Cancelled, will be reading from the book and drawing some of the characters. Don't forget to bring a pencil and paper!
Serena Patel is the author of the Anisha, Accidental Detective series which won the Sainsbury's Children's Book Award for Fiction. She lives in the West Midlands with her family and believes all children deserve to feel seen in the stories they read and that books are an important tool for empathy. When she's not writing Serena enjoys watching movies, reading and eating cake. Chocolate cake preferred.
Emma McCann is a freelance illustrator, sporadic painter/print maker, occasional cake baker, and regular mess maker. She lives in Cornwall and works from an attic studio where her ideas are scribbled, Wacom'd, and Photoshopped into existence. In her spare time, Emma undertakes scientific research into Cornwall's best cream tea and takes it very, very seriously.
Suitable for ages 6+.
Register with the password

LAUGHOUTLOUD

.
---
Books by Serena Patel and Emma McCann
Anisha, Accidental Detective: School's Cancelled
"I've been working sooo hard with Milo and Govi to make our super-erupting volcano for the school science fair. I really thought we might win first prize – a trip to the National Space Centre. But now we're in BIG trouble.
One minute we were in the lab practising our science demo, and the next thing we knew, our volcano exploded and flooded the corridors. School had to be cancelled!
But did we really get our project so wrong – or is someone else trying to win first prize? Looks like a case for Anisha, Accidental Detective!"
---