Scholastic Schools Live | The 12 Days of Cracking Christmas Reading | Writing true stories with Musa Okwonga
The 12 Days of Cracking Christmas Reading: Writing true stories with Musa Okwonga
Monday 13th December, 2pm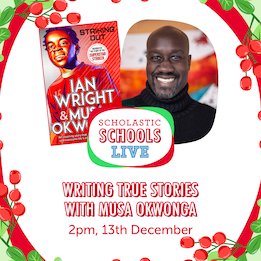 Join Musa Okwonga, co-author of Striking Out with footballer Ian Wright, for an event about writing true stories. Musa will talk about the process of bringing Ian's story to the page, how to turn true stories into fiction, and even give a special reading from the book.
Suitable for ages 9+.
Register with the password

CHRISTMAS

.
---
Books by Musa Okwonga
Striking Out
Thirteen-year-old Jerome Jackson dreams of becoming a world-class footballer. But with a difficult home life, Jerome can't see how he'll ever make this dream come true … until he meets a mentor figure who can hopefully put him on the right track. "The best strikers aren't the most skilful ones. They are the ones who never give up."
---