Scholastic Schools Live | World Book Day Event Week | It's a Party Parade with Sara Miller!
World Book Day Event Week: It's a Party Parade with Sara Miller!
Tuesday 1st March, 2pm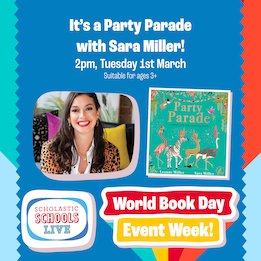 Come on a journey with Sara Miller, award winning illustrator and her sister Leanne, into the magical world of animals. We'll travel through exotic lands, tropical jungles and dry desert sands. Count all the creatures – each colour and shade. Who can you spot on this Party Parade?
Suitable for ages 3+.
Register with the password

WORLDBOOKDAY

.
---
Books by Sara Miller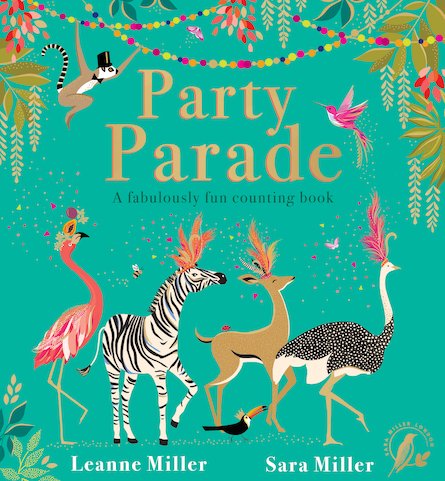 Party Parade
Counting from one to ten has never been so fun with this hide-and-seek, animal-packed picture book, written by the sisterly duo, Leanne and Sara Miller. Come with us on an enchanting journey, counting all the way to ten and spotting animals along the way! From dazzling deep blue waters to tropical jungles and snowy mountain peaks, count the exotic creatures and spot who else is hiding in their magical world. Join the fun – it's a PARTY PARADE! Written by Leanne Miller and illustrated by her sister, Sara Miller, founder of award-winning luxury lifestyle brand Sara Miller London. Every spread in this beautiful book showcases a new animal habitat, from oceans and treetops to snowy mountains and tropical jungles. Bright and bold colours throughout—a staple in all Sara Miller's luxury brand products. Sara's the founder of Sara Miller London, where she designs products from duvets and mugs to pencil cases and birthday cards. These have won many awards and are sold all over the world. Two very creative sisters have joined together to create a beautiful book offering for children (and adults!) Lots of animals to spot on each page, plus an extra page at the end prompting little readers to find even more animals!
---