Scholastic Schools Live | Zeba Talkhani and Abeeha Tariq
Celebrate The Most Exciting Eid with Zeba Talkhani and Abeeha Tariq
Friday 29th April, 11am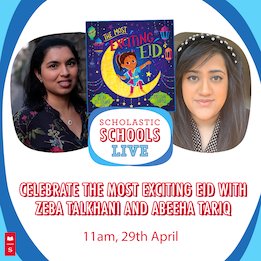 Eid Mubarak! Join Zeba Talkhani and Abeeha Tariq, the creators of The Most Exciting Eid, to celebrate Eid al-Fitr. Learn all about the festival and join in with a draw along inspired the book.
Suitable for ages 3+.
Register with the password

MOSTEXCITINGEID

.
---
Books by Zeba Talkhani and Abeeha Tariq
The Most Exciting Eid
Just one more sleep before EID! Safa is so excited for Eid-al-Fitr. She loves drawing henna patterns on her hands, decorating her home and munching on biryani, kebabs and samosas. It is the perfect day. Then the best part comes: she gets to open her presents! She is gifted a shiny pink bicycle. The only thing is she absolutely doesn't want to share with her cousin, Alissa. As her mum takes her on an adventure to gift delicious Eid treats to all their neighbours, Safa will realise how wonderful it is to make others happy…and will want to make it up to Alissa. After all, what makes Eid exciting is sharing special moments with the people we love.
---