The Laugh Out Loud Book Awards 2022 - Past winners
Congratulations to the past winners of the Lollies!
Tens of thousands of children vote in the Lollies every year and we're delighted to revisit the winners of the four previous Awards.

---
Lollies 2020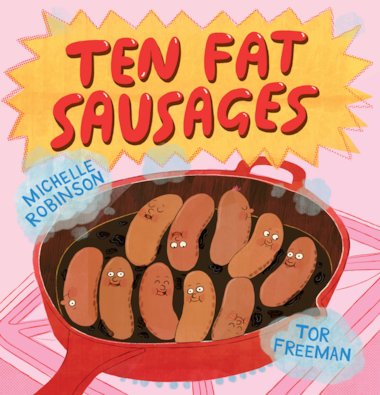 Best Laugh Out Loud Picture Book
Ten Fat Sausages by Michelle Robinson and Tor Freeman

Ten fat sausages sizzling in the pan… decide to escape, if they can!
Come on a great escape through the kitchen as we follow each sausage that decides to make a run for it. Will they succeed or will the cat, blender, plug hole or fan prove their downfall?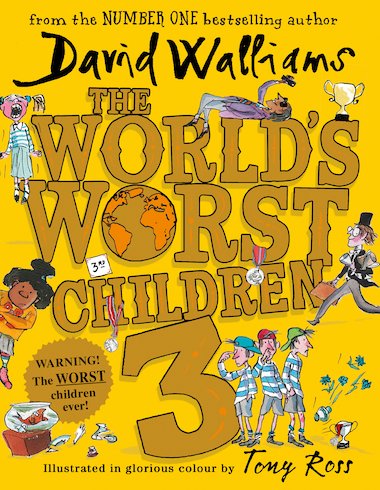 Best Laugh Out Loud Book for 6-8-year-olds
The World's Worst Children 3 by David Walliams and Tony Ross

In The World's Worst Children 3, Britain's biggest-selling children's author presents another ten horrendously hilarious stories about the absolute worst children ever. The characters are vividly brought to life in glorious, gruesome colour by the incredible Tony Ross. From ten-year-old Hank and his endless pranks, to Tandy and her titanic tantrums – this collection of The World's Worst Children will delight young readers everywhere.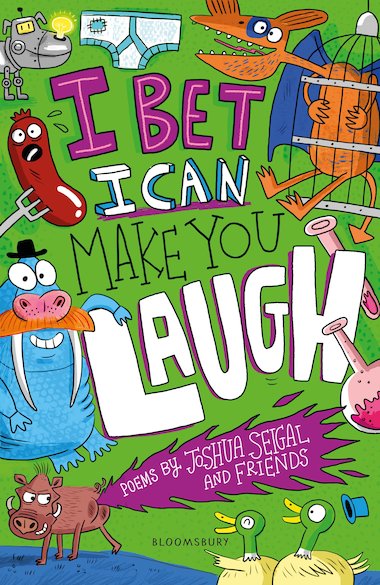 Best Laugh Out Loud Book for 9-13-year-olds
I Bet I Can Make You Laugh by Joshua Seigal and Tim Wesson

Packed full of stupendously silly, fantastically funny and hysterically hilarious poems, this brilliant anthology is edited by exciting young poet, Joshua Seigal. Featuring a diverse range of contributors and some brand new poems from Joshua himself, this book is perfect for anyone who needs a giggle or a belly laugh!
Lollies 2018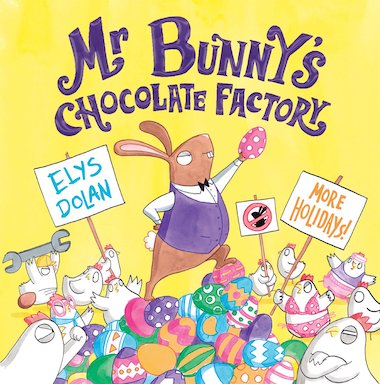 Best Laugh Out Loud Picture Book
Mr Bunny's Chocolate Factory by Elys Dolan

Go behind the scenes of Mr Bunny's chocolate factory! An irresistible look at the workings of Mr Bunny's chocolate factory! Packed with cross-over humour to amuse kids and big kids too with artwork full of details for poring over time and time again. Still a new kid on the block, Elys Dolan has already been shortlisted for The Roald Dahl Funny Prize and the Waterstones Children's Book Prize, and nominated for the Kate Greenaway Medal. The perfect picture book for Easter, but also with a great all-year round appeal.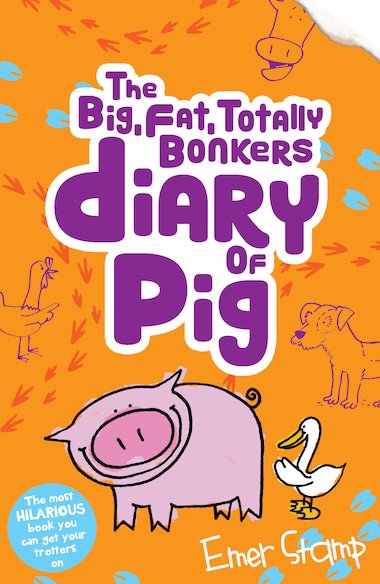 Best Laugh Out Loud Book for 6-8-year-olds
The Big, Fat, Totally Bonkers Diary of Pig by Emer Stamp

The fourth in the Pig series of chapter books in diary form – with Pig's hilarious illustrations on every page. I is Pig. This is my diary and I doubts you will believe any of it. In fact, if you is the kind of farmer what finds it hard to believe unbelievable stuff, you should put it down RIGHT NOW. I wouldn't blame you. If I was reading it I would be like, 'Don't be silly! Stuff like this would never happen to a pig, it's totally impossible.' But it's not. Just ask Duck, or Cow, or Ki-Ki, or Rusty. They'd all tell you… It's all 1,000% true and 10,000% BONKERS!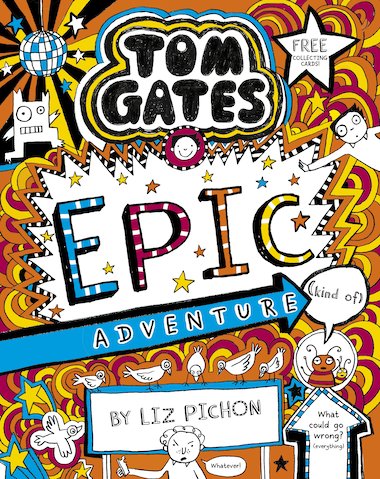 Best Laugh Out Loud Book for 9-13-year-olds
Tom Gates: Epic Adventure (Kind Of)

The thirteenth (lucky for us!) title in the bestselling series, from the brilliantly talented Liz Pichon.
Having two sets of grandparents is turning out to be very good for me. The Wrinklies are keen on giving presents AND they're planning a family outing which is going to be EPIC! Even Delia wants to come. (I can always ignore her.)
Lollies 2017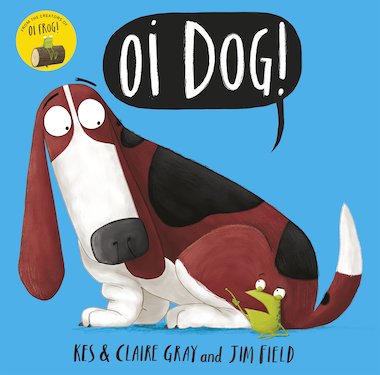 Best Laugh Out Loud Picture Book
Oi Dog! by Kes & Claire Gray and Jim Field

Frog is changing the rules…Dogs no longer sit on frogs. Phew! Dogs now sit on logs – and everyone else is going to have to sit somewhere different too. Will cats want to sit on gnats? Will spiders like sitting on gliders? Will whales be happy to sit on nails? And, most importantly, where is FROG going to sit? The hilarious sequel to Oi, Frog! will have children rolling around with laughter.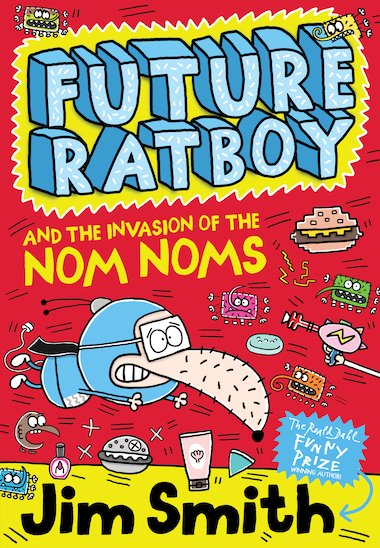 Best Laugh Out Loud Book for 6-8-year-olds
Future Ratboy and the Invasion of the Nom Noms by Jim Smith

When a bolt of lightning hit Colin Lamppost he was zapped millions of years into the future and turned into a half boy, half rat, half TV! With new superkeel powers and a real life sidekick in Not Bird, Future Ratboy was born. In this new adventure, can Future Ratboy and Not Bird save Shnozville from the bitey little insects that are turning everyone into zombies? Will they defeat the evil Mr X? And how will they ever find their way home?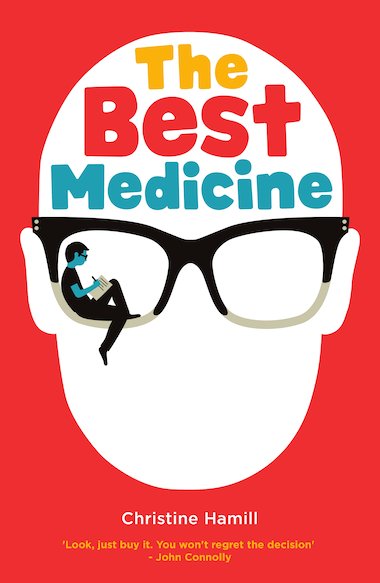 Best Laugh Out Loud Book for 9-13-year-olds
The Best Medicine by Christine Hamill

Philip is twelve years old and life is pretty good. He gets on with his mum and gets by pretty well at school – in spite of girl problems, teacher problems, bully problems and – er – poetry problems. Philip's happy-go-lucky life is disrupted when his mother gets breast cancer. Bad enough that your mother is seriously ill – but could she not have developed a less embarrassing kind of cancer – toe cancer, maybe, or ear cancer? Philip's attempts to cope with his situation are both hilarious and touching.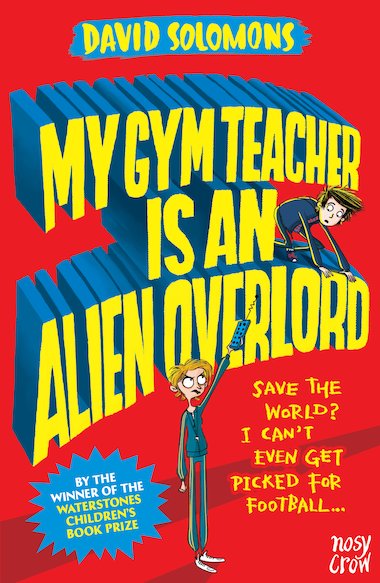 Laugh Out Loud Children's PopJam Winner
My Gym Teacher is an Alien Overlord by David Solomons

Aliens disguised as gym teachers want to attack Earth. We need a hero! Instead, we've got Luke. (Uh-oh.) He's equipped with a burning sense of injustice, a new pair of shoes and – well, that's about it. Oh, and just to make things even worse, NOBODY believes his warnings. Can he save the planet in a risky pact with a super-villain? Can he prove he's just as super as his awful brother, Zack? Can he even find his trainers…?
Lollies 2016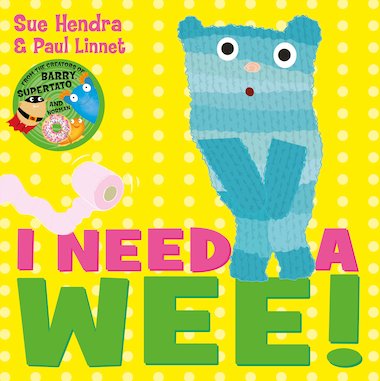 Best Laugh Out Loud Picture Book
I Need a Wee! by Sue Hendra and Paul Linnet

Oops. Sue Hendra and Paul Linnet's worried puppet bear will make you laugh so hard you cross your legs. Even funnier and sweeter than Barry the Fish With Fingers. When you're a little bear, there are lots of fun things you can do. You can ride a bike. Build a sandcastle. Or play with your friends. Trouble is, Alan the bear needs a wee. Boring! He forgets it for a while. But now he urgently needs a wee. Where's the loo? Is there a queue? Uh-oh – he doesn't want to get his cute little woolly legs wet!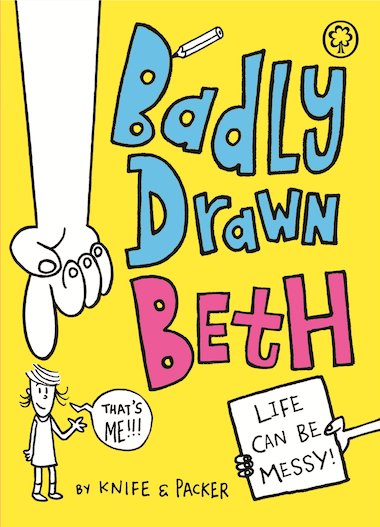 Best Laugh Out Loud Book for 6-8-year-olds
Badly Drawn Beth by Knife and Packer

So, I'm surrounded by crocodiles, holding a briefcase full of fish fingers, I'm wearing a swamp monster mask AND MISS PRIMULA IS ABOUT TO CALL MY PARENTS!
Meet Beth – and all of her fantastically crazy family and friends – and be prepared to laugh your socks off! A hilarious new diary series from the creators of Fleabag Monkeyface.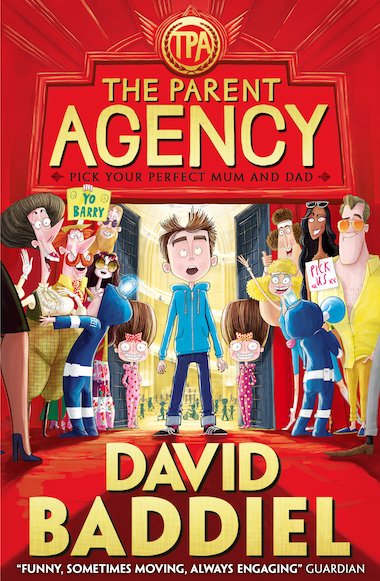 Best Laugh Out Loud Book for 9-13-year-olds
The Parent Agency by David Baddiel and Jim Field

A brilliantly funny, gripping novel – and the bestselling hardback children's debut of 2014 – from a born storyteller, The Parent Agency is an epic wish-fulfilment adventure for every child – and for the child in everyone. "I wish I had better parents!" Barry said, a third time. And then suddenly the entire room started to shake…