Scholastic Schools Live | Lollies Event Week | Adam Kay and Henry Paker
Laugh Out Loud Book Awards Event Week: Adam Kay and Henry Paker, Kay's Anatomy
Wednesday 22nd September, 10:30am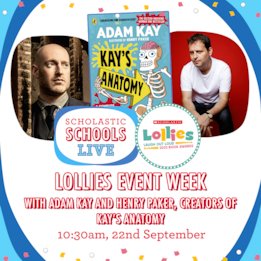 Adam Kay and Henry Paker, author and illustrator of Lollies ages 9-13 shortlisted book Kay's Anatomy, will be joining us to answer your questions. Plus, look out for their hilarious 'random topic generator' and enjoy some 'true or poo' questions!
Adam Kay is an award-winning writer and former non-award-winning junior doctor. His first book This is Going to Hurt: Secret Diaries of a Junior Doctor was a Sunday Times number one bestseller for over a year and has sold over 2.5 million copies. It has been translated into 37 languages and is winner of four National Book Awards, including Book of the Year, and will be a major new comedy drama for

BBC

/AMC starring Ben Whishaw. His second book Twas the Nightshift Before Christmas was an instant Sunday Times number one bestseller and sold over 500,000 copies in its first few weeks. His compilation Dear
NHS

raised over £250k for charity. His record-breaking debut children's book Kay's Anatomy was published in October 2020.
Henry Paker is an award-winning comic writer, stand-up comedian, actor and cartoonist. He regularly writes for shows including Would I Lie to You?, Mock the Week, 8 Out of 10 Cats, Never Mind the Buzzcocks, Michael McIntyre's Big Show, Stand Up for the Week, Big Fat Quiz of the Year and Comic Relief, and made many radio and television appearances including Russell Howard's Good News and Seann Walsh World._
Suitable for ages 9+.
Register with the password

LAUGHOUTLOUD

.
---
Books by Adam Kay and Henry Paker
Kay's Anatomy
Do you ever think about your body and how it all works? Like really properly think about it?
The human body is extraordinary and fascinating and, well. pretty weird. Yours is weird, mine is weird, your maths teacher's is even weirder.
This book is going to tell you what's actually going on in there, and answer the really important questions, like-
Are bogeys safe to eat? Look, if your nose is going to all that effort of creating a snack, the least we can do is check out its nutritional value. (Yes, they're safe. Chew away!)
And . . .
How much of your life will you spend on the toilet? About a year – so bring a good book. (I recommend this one.)
So sit back, relax, put on some rubber gloves, and let a doctor take you on a poo- and puke-filled tour of your insides. Welcome to Kay's Anatomy.
---