Scholastic Schools Live | Lollies Event Week | Pamela Butchart
Laugh Out Loud Book Awards Event Week: Pamela Butchart, Wigglesbottom Primary: Break-Time Bunnies
Tuesday 21st September, 9:30am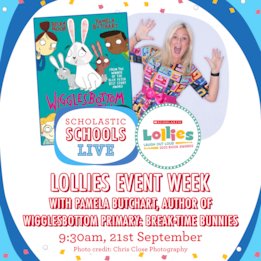 Pamela Butchart, author of Lollies ages 6-8 shortlisted book Wigglesbottom Primary: Break-Time Bunnies, will be joining us for this hilarious event all about this brilliant story. Come along with your questions!
As a child, Pamela was lucky enough to grow up in a house full of pets and go to a primary school where lots of spooky and weird things happened (well, in her imagination at least). As a student, Pamela's student jobs included: fishwife, teaching basketball in America, phlebotomist and Artist Liaison for a (really bad) Abba tribute band. Her top selling stories include The Spy Who Loved School Dinners, which won the Blue Peter Best Story Award and My Head Teacher is a Vampire Rat, which won The Children's Book Award. Two of her books, Petunia Perry and the Curse of the Ugly Pigeon and There's a Werewolf in My Tent, were shortlisted for the Lollies – the Laugh Out Loud Awards. Pamela lives in Dundee with her baby boy and their two awesome cats, Bear & Carlos. If she wasn't working as a writer and a teacher she'd like to open a luxury hotel for stray cats.
Suitable for ages 6+.
Register with the password

LAUGHOUTLOUD

.
---
Books by Pamela Butchart
Wigglesbottom Primary: Break-Time Bunnies
Life at Wigglesbottom Primary is often lived on the edge. An unexpected visitor, a bewitched violin and an invasion of bunnies! What can it all mean???
Written by the bestselling, Blue Peter award-winning author Pamela Butchart and illustrated by Becka Moor, these hilarious school stories perfectly bridge the gap between picture books and chapter books.
---