Scholastic Schools Live | Lollies Event Week | Rashmi Sirdeshpande and Diane Ewen
Laugh Out Loud Book Awards Event Week: Rashmi Sirdeshpande and Diane Ewen, Never Show a T-Rex a Book
Thursday 23rd September, 10:30am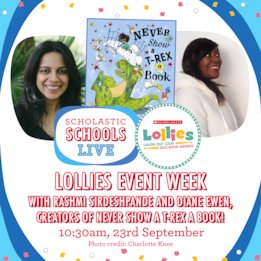 Rashmi Sirdeshpande and Diane Ewen, author and illustrator of Lollies picture book shortlisted book Never Show a T-Rex a Book, will be reading from the book and drawing some of the characters. Don't forget to bring a pencil and paper!
Rashmi Sirdeshpande is a lawyer turned children's author, with two young children who ask her lots of questions. Rashmi writes non-fiction picture books that ignite children's curiosity, as well as fictional stories that crackle with imagination. When she's not playing with words, you'll find her on her yoga mat twisting herself into all sort of shapes.
Diane Ewen is a British illustrator, born in Walsall, in the West Midlands. She has always been in love with art and graduated from the University of Wolverhampton with a B.A. Honours Degree in illustration. Diane likes to create illustrations that are hand-drawn in pencil before painting in watercolour and acrylics prior to embellishing them using Photoshop but she also enjoys creating designs digitally; constantly developing her style as she progresses. She likes the fact that illustrations are the first things that entice the reader to engage with a book and is inspired by the use of vibrant colour.
Suitable for ages 3+.
Register with the password

LAUGHOUTLOUD

.
---
Books by Rashmi Sirdeshpande and Diane Ewen
Never Show a T-Rex a Book
What would happen if you showed a T-Rex a book? Well, she wouldn't know what to do with it . . . would she?
A madcap, super silly adventure story rooted in the transformative power of books, created by incredible new picture-book duo Rashmi Sirdeshpande and Diane Ewen.
---