Scholastic Schools Live | K. N. Chimbiri
Black History Month – The Story of Afro Hair with K. N. Chimbiri
Friday 8th October, 11am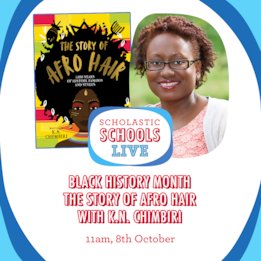 Discover 5,000 years of Black history in 30 minutes with K.N. Chimbiri! Kandace will be talking about her new book, The Story of Afro Hair, which celebrates the history, fashion and styles from Ancient Egypt to the modern day. In this session you will learn all about inspirational key figures who changed the course of Afro hair history. You are guaranteed to come away with a better understanding of Black history and pride in the amazing story of Afro hair.
Suitable for ages 9+.
Register with the password

AFROHAIR

.
---