Teen Book Club
Your brand new selection of books for 11+-year-olds is here!
Check out the latest
Teen Book Club
range to find your next favourite read. The newest and best YA fiction and non-fiction at up to
70% off
RRP.
Don't forget that every order over €10 will earn your school
25% in free books
– so you can keep reading all year round. Take a look at the books below or
browse the whole Teen Book Club range
.
Not sure how
Scholastic Book Clubs
work?
Find out more
.
---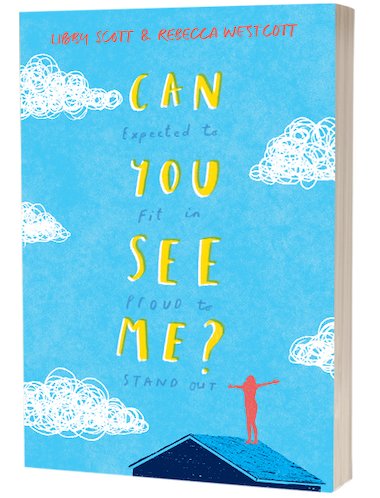 Our Book of the Month
Our Teen Book of the Month is Can You See Me? Co-written by a girl with autism, this is a powerful story about being different in a world that doesn't always understand you. Tally is eleven, and she's just like her friends. Well, sometimes she is. If she tries really hard to be. But there's something that makes Tally not the same as her friends. Something she can't ignore, no matter how hard she tries. Tally is autistic. It really bothers her if colours don't match, or objects aren't in order, or things aren't exactly right. And when Tally gets fussed, she upsets other people. They think she won't guess how they feel. But Tally notices all of it. And that can make life tough…
A heart-tugging story of autism, empathy and kindness, written by eleven-year-old autistic blogger Libby Scott and Rebecca Westcott, author of Dandelion Clocks. This is a must-read for fans of Wonder and The Goldfish Boy.
Are you a teen bookworm?
We're looking for teen book lovers to review books for us!
Find out more
.
---
See more

Award-winning authors
Award-winning authors
eur prices

Offer price:

€11.00

Rewards/RRP:

€16.24

eur prices

Offer price:

€4.50

Rewards:

€8.73

RRP:

€8.74

eur prices

Offer price:

€4.50

Rewards:

€8.73

RRP:

€8.74

eur prices

Offer price:

€10.00

Rewards:

€13.73

RRP:

€13.74

eur prices

Offer price:

€37.50

Rewards/RRP:

€74.91

eur prices

Offer price:

€12.50

Rewards:

€18.73

RRP:

€18.74

eur prices

Offer price:

€3.50

Rewards:

€8.73

RRP:

€8.74

eur prices

Offer price:

€6.00

Rewards/RRP:

€9.99

eur prices

Offer price:

€21.00

Rewards:

€52.42

RRP:

€52.43

eur prices

Offer price:

€6.00

Rewards:

€8.73

RRP:

€8.74

eur prices

Offer price:

€4.50

Rewards:

€8.73

RRP:

€8.74

eur prices

Offer price:

€3.50

Rewards:

€8.73

RRP:

€8.74

eur prices

Offer price:

€11.00

Rewards:

€16.23

RRP:

€16.24

eur prices

Offer price:

€5.00

Rewards:

€8.73

RRP:

€8.74

eur prices

Offer price:

€5.00

Rewards/RRP:

€8.74

eur prices

Offer price:

€10.00

Rewards:

€16.23

RRP:

€16.24

eur prices

Offer price:

€6.00

Rewards:

€8.73

RRP:

€8.74

eur prices

Offer price:

€16.00

Rewards/RRP:

€34.95

eur prices

Offer price:

€22.50

Rewards/RRP:

€43.69

eur prices

Offer price:

€2.50

Rewards:

€8.73

RRP:

€8.74

eur prices

Offer price:

€18.50

Rewards/RRP:

€37.49

eur prices

Offer price:

€6.00

Rewards/RRP:

€8.74

eur prices

Offer price:

€37.50

Rewards/RRP:

€104.85

eur prices

Offer price:

€6.00

Rewards:

€9.98

RRP:

€9.99

eur prices

Offer price:

€5.00

Rewards:

€8.73

RRP:

€8.74

eur prices

Offer price:

€10.00

Rewards/RRP:

€29.96

eur prices

Price:

€37.50

Rewards:

€69.90
See more

Funny books
Funny books
eur prices

Offer price:

€11.00

Rewards/RRP:

€16.24

eur prices

Offer price:

€4.50

Rewards:

€8.73

RRP:

€8.74

eur prices

Offer price:

€4.50

Rewards:

€8.73

RRP:

€8.74

eur prices

Offer price:

€10.00

Rewards:

€13.73

RRP:

€13.74

eur prices

Offer price:

€12.50

Rewards:

€18.73

RRP:

€18.74

eur prices

Offer price:

€21.00

Rewards:

€52.42

RRP:

€52.43

eur prices

Offer price:

€4.50

Rewards:

€8.73

RRP:

€8.74

eur prices

Offer price:

€11.00

Rewards:

€16.23

RRP:

€16.24

eur prices

Offer price:

€5.00

Rewards/RRP:

€8.74

eur prices

Offer price:

€10.00

Rewards:

€16.23

RRP:

€16.24

eur prices

Offer price:

€6.00

Rewards:

€8.73

RRP:

€8.74

eur prices

Offer price:

€16.00

Rewards/RRP:

€34.95

eur prices

Offer price:

€6.00

Rewards/RRP:

€8.74

eur prices

Offer price:

€37.50

Rewards/RRP:

€104.85

eur prices

Offer price:

€6.00

Rewards:

€8.73

RRP:

€8.74

eur prices

Offer price:

€3.50

Rewards:

€7.48

RRP:

€7.49

eur prices

Offer price:

€6.00

Rewards:

€16.23

RRP:

€16.24

eur prices

Offer price:

€10.00

Rewards/RRP:

€34.95

eur prices

Price:

€50.00

Rewards:

€102.36

eur prices

Offer price:

€16.00

Rewards/RRP:

€34.95

eur prices

Offer price:

€5.00

Rewards/RRP:

€8.74

eur prices

Offer price:

€16.00

Rewards:

€37.43

RRP:

€37.44

eur prices

Offer price:

€10.00

Rewards/RRP:

€17.48

eur prices

Offer price:

€6.00

Rewards:

€8.73

RRP:

€8.74

eur prices

Price:

€25.00

Rewards:

€52.42

eur prices

Offer price:

€6.00

Rewards/RRP:

€9.99

eur prices

Offer price:

€2.50

Rewards:

€6.23

RRP:

€6.24
See more

Read what's on screen
Read what's on screen
eur prices

Offer price:

€5.00

Rewards:

€9.98

RRP:

€9.99

eur prices

Offer price:

€37.50

Rewards/RRP:

€74.91

eur prices

Price:

€8.73

eur prices

Price:

€8.74

eur prices

Offer price:

€8.50

Rewards:

€14.98

RRP:

€14.99

eur prices

Offer price:

€3.50

Rewards:

€8.73

RRP:

€8.74

eur prices

Price:

€8.03

Rewards:

€8.73

eur prices

Price:

€9.18

Rewards:

€9.98

eur prices

Price:

€8.73

eur prices

Price:

€8.73

eur prices

Offer price:

€6.00

Rewards/RRP:

€9.99

eur prices

Offer price:

€10.00

Rewards/RRP:

€18.74

eur prices

Price:

€12.49

eur prices

Price:

€8.03

Rewards:

€8.73

eur prices

Offer price:

€22.50

Rewards/RRP:

€43.69

eur prices

Price:

€8.03

Rewards:

€8.73

eur prices

Price:

€8.74

eur prices

Price:

€8.03

Rewards:

€8.73

eur prices

Price:

€8.73

eur prices

Offer price:

€5.00

Rewards:

€7.48

RRP:

€7.49

eur prices

Price:

€7.49

eur prices

Price:

€9.98

eur prices

Offer price:

€6.00

Rewards/RRP:

€12.48

eur prices

Price:

€6.24

eur prices

Price:

€8.73

eur prices

Price:

€9.18

Rewards:

€9.98

eur prices

Price:

€8.03

Rewards:

€8.73

eur prices

Price:

€11.23