Books for ages 3 to 4
See more

Bestselling picture books
Bestselling picture books
eur prices

Offer price:

€6.50

Rewards/RRP:

€8.88

eur prices

Offer price:

€6.50

Rewards/RRP:

€8.88

eur prices

Offer price:

€5.00

Rewards/RRP:

€7.61

3books

Award-winning author

eur prices

Offer price:

€11.50

Rewards/RRP:

€26.63

Award-winning team

eur prices

Offer price:

€6.50

Rewards/RRP:

€8.88

eur prices

Offer price:

€6.50

Rewards/RRP:

€10.15

Award-winning team

eur prices

Offer price:

€6.50

Rewards/RRP:

€10.15

4books

Award-winning team

eur prices

Offer price:

€19.00

Rewards/RRP:

€35.51

Award-winning author

eur prices

Offer price:

€6.50

Rewards/RRP:

€8.88

3books

Award-winning team

eur prices

Offer price:

€11.50

Rewards/RRP:

€26.63

Award-winning team

eur prices

Offer price:

€6.50

Rewards/RRP:

€8.88

eur prices

Offer price:

€6.50

Rewards/RRP:

€8.88

eur prices

Offer price:

€6.50

Rewards/RRP:

€8.88

eur prices

Offer price:

€6.50

Rewards/RRP:

€8.88

Award-winning author

eur prices

Offer price:

€6.50

Rewards/RRP:

€8.88

Award-winning

eur prices

Offer price:

€6.50

Rewards/RRP:

€8.88

Award-winning team

eur prices

Offer price:

€6.50

Rewards/RRP:

€8.88

Award-winning team

eur prices

Offer price:

€6.50

Rewards/RRP:

€8.88

eur prices

Offer price:

€6.50

Rewards/RRP:

€8.88

Award-winning team

eur prices

Offer price:

€6.50

Rewards/RRP:

€8.88

3books

eur prices

Offer price:

€12.50

Rewards/RRP:

€26.63

Award-winning illustrator

eur prices

Offer price:

€6.50

Rewards/RRP:

€8.88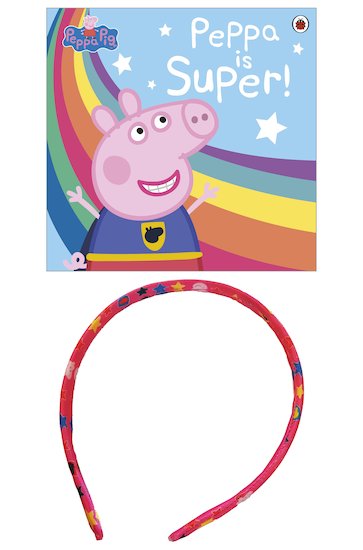 Our January Book of the Month
Super Peppa!
"We all need something to bring a bit of sparkle and rainbow brightness to those cold and dark January days and nights. My Book of the Month for January absolutely fits the bill. In Peppa's brand new story, she learns that indecision is part of growing up, but if you believe in yourself and work hard, you are part-way there. It's a wonderfully empowering story about life's little journeys and finding your place within the world. Peppa show us we are all super heroes in our own way, and everyone has a contribution to make.
Peppa Pig is an 'evergreen' favourite with children, and so many have discovered the love of reading through her enchanting tales. Comes complete with a FREE headband† for all Peppa lovers to wear, only available through Scholastic. And check out the super sparkly glitter on the cover!"
†Colours may vary

Yvonne – Book Club Editor, Ages 0–6
See more

What's new?
What's new?
eur prices

Offer price:

€6.50

Rewards/RRP:

€8.88

eur prices

Offer price:

€10.00

Rewards/RRP:

€16.50

Book of the month

eur prices

Offer price:

€6.50

Rewards/RRP:

€8.88

New

eur prices

Offer price:

€6.50

Rewards/RRP:

€8.88

New

eur prices

Offer price:

€6.50

Rewards/RRP:

€8.88

eur prices

Offer price:

€6.50

Rewards/RRP:

€8.88

eur prices

Offer price:

€9.00

Rewards/RRP:

€12.69

eur prices

Offer price:

€6.50

Rewards/RRP:

€8.88

eur prices

Offer price:

€5.00

Rewards/RRP:

€7.61

Award-winning author

eur prices

Offer price:

€6.50

Rewards/RRP:

€8.88

eur prices

Offer price:

€6.50

Rewards/RRP:

€8.88

eur prices

Offer price:

€6.50

Rewards/RRP:

€8.88

3books

eur prices

Offer price:

€11.50

Rewards/RRP:

€27.90

6copies

eur prices

Offer price:

€25.50

Rewards/RRP:

€53.26

30copies

eur prices

Offer price:

€101.50

Rewards/RRP:

€266.32
See more

Home learning
Home learning
10books

eur prices

Offer price:

€25.50

Rewards/RRP:

€63.37

eur prices

Offer price:

€11.50

Rewards/RRP:

€13.96

eur prices

Offer price:

€11.50

Rewards/RRP:

€13.96

eur prices

Offer price:

€11.50

Rewards/RRP:

€13.96
See more

Favourite characters
Favourite characters
eur prices

Offer price:

€6.50

Rewards/RRP:

€8.88

eur prices

Offer price:

€6.50

Rewards/RRP:

€10.15

eur prices

Offer price:

€5.00

Rewards/RRP:

€7.61

eur prices

Offer price:

€6.50

Rewards/RRP:

€8.88

eur prices

Offer price:

€10.00

Rewards/RRP:

€16.50

eur prices

Offer price:

€5.00

Rewards/RRP:

€8.88

Award-winning team

eur prices

Offer price:

€6.50

Rewards/RRP:

€8.88
See more

Book pack bargains
Book pack bargains
7books

Award-winning team

eur prices

Offer price:

€21.00

Rewards/RRP:

€44.36

3books

Award-winning author

eur prices

Offer price:

€11.50

Rewards/RRP:

€26.63

4books

Award-winning team

eur prices

Offer price:

€19.00

Rewards/RRP:

€35.51

3books

Award-winning team

eur prices

Offer price:

€11.50

Rewards/RRP:

€26.63

3books

eur prices

Offer price:

€12.50

Rewards/RRP:

€26.63

3books

Award-winning author

eur prices

Offer price:

€12.50

Rewards/RRP:

€26.63

3books

Award-winning team

eur prices

Offer price:

€12.50

Rewards/RRP:

€26.63

3books

eur prices

Offer price:

€11.50

Rewards/RRP:

€26.63

6books

Award-winning author

eur prices

Offer price:

€16.50

Rewards/RRP:

€53.26

10books

eur prices

Offer price:

€25.50

Rewards/RRP:

€63.37

4books

Award-winning team

eur prices

Offer price:

€16.50

Rewards/RRP:

€35.51

3books

eur prices

Offer price:

€11.50

Rewards/RRP:

€27.90

4books

Award-winning team

eur prices

Offer price:

€12.50

Rewards/RRP:

€35.51

5books

eur prices

Offer price:

€21.50

Rewards/RRP:

€43.12

3books

Award-winning team

eur prices

Offer price:

€12.50

Rewards/RRP:

€26.63

4books

eur prices

Offer price:

€16.50

Rewards/RRP:

€35.51

3books

eur prices

Offer price:

€12.50

Rewards/RRP:

€26.63

2books

Award-winning team

eur prices

Offer price:

€11.50

Rewards/RRP:

€17.75
See more

Funny reads
Funny reads
eur prices

Offer price:

€6.50

Rewards/RRP:

€8.88

Book of the month

eur prices

Offer price:

€6.50

Rewards/RRP:

€8.88

New

eur prices

Offer price:

€6.50

Rewards/RRP:

€8.88

New

eur prices

Offer price:

€6.50

Rewards/RRP:

€8.88

eur prices

Offer price:

€6.50

Rewards/RRP:

€8.88

eur prices

Offer price:

€6.50

Rewards/RRP:

€8.88

3books

eur prices

Offer price:

€11.50

Rewards/RRP:

€27.90

Award-winning author

eur prices

Offer price:

€6.50

Rewards/RRP:

€8.88

eur prices

Offer price:

€4.00

Rewards/RRP:

€8.88

Award-winning team

eur prices

Offer price:

€6.50

Rewards/RRP:

€8.88

eur prices

Offer price:

€6.50

Rewards/RRP:

€8.88

Award-winning team

eur prices

Offer price:

€9.00

Rewards/RRP:

€13.96

Award-winning illustrator

eur prices

Offer price:

€6.50

Rewards/RRP:

€8.88

Award-winning team

eur prices

Offer price:

€6.50

Rewards/RRP:

€8.88

eur prices

Offer price:

€6.50

Rewards/RRP:

€8.88

3books

eur prices

Offer price:

€12.50

Rewards/RRP:

€26.63
Browse more children's books by age