Books for ages 9 to 10
See more

Bestsellers
Bestsellers
eur prices

Offer price:

€5.00

Rewards/RRP:

€7.61

eur prices

Offer price:

€6.50

Rewards/RRP:

€10.15

eur prices

Offer price:

€9.00

Rewards/RRP:

€11.42

4books

Award-winning team

eur prices

Offer price:

€16.50

Rewards/RRP:

€35.51

eur prices

Offer price:

€10.00

Rewards/RRP:

€16.50

12books

Award-winning author

eur prices

Offer price:

€38.00

Rewards/RRP:

€106.53

Editor's pick

eur prices

Offer price:

€10.00

Rewards/RRP:

€16.50

eur prices

Offer price:

€6.50

Rewards/RRP:

€7.61

eur prices

Offer price:

€10.00

Rewards/RRP:

€16.50

eur prices

Offer price:

€6.50

Rewards/RRP:

€8.88

eur prices

Offer price:

€5.00

Rewards/RRP:

€8.88

eur prices

Offer price:

€10.00

Rewards/RRP:

€16.50

eur prices

Offer price:

€6.50

Rewards/RRP:

€8.88

eur prices

Offer price:

€7.50

Rewards/RRP:

€11.42

eur prices

Offer price:

€6.50

Rewards/RRP:

€10.15

eur prices

Offer price:

€6.50

Rewards/RRP:

€10.15

eur prices

Offer price:

€5.00

Rewards/RRP:

€7.61

6books

eur prices

Offer price:

€23.00

Rewards/RRP:

€45.64

eur prices

Offer price:

€7.50

Rewards/RRP:

€11.42

5books

Award-winning author

eur prices

Offer price:

€19.00

Rewards/RRP:

€44.39

3books

eur prices

Offer price:

€11.50

Rewards/RRP:

€22.82

5books

Award-winning author

eur prices

Offer price:

€12.50

Rewards/RRP:

€44.39

12books

Award-winning author

eur prices

Offer price:

€44.50

Rewards/RRP:

€106.53

eur prices

Offer price:

€6.50

Rewards/RRP:

€8.88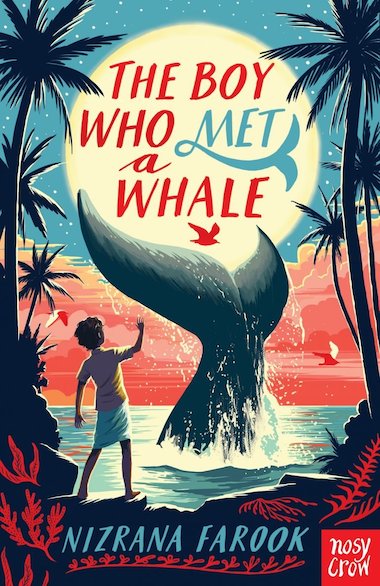 Our January Book of the Month
The Boy Who Met a Whale by Nizrana Farook
"For kids aged 9 and over, our January Book of the Month pick is the exhilarating The Boy Who Met a Whale. The second title from Nizrana Farook, the author of one of 2020's biggest selling books – and her debut – The Girl Who Stole an Elephant. The Boy Who Met a Whale is another brilliant escapade, jam-packed with peril, kidnapping, missing treasure and a huge blue whale!
This thrilling adventure is set in tropical Sri Lanka and introduces and educates the reader on different cultures through our protagonists Razi, Zheng and Shifa. It is also so important for children to see a diverse range of characters in books, especially when it is characters they can see themselves reflected in, and this is a great example of such a book. We've chosen this book for all these reasons and more, plus it's perfect for escaping reality and losing yourself in a completely different country and adventure!"

Su – Book Club Editor, Ages 7–11+
See more

What's new?
What's new?
Award-winning author

eur prices

Offer price:

€10.00

Rewards/RRP:

€16.50

Award-winning author

eur prices

Offer price:

€6.50

Rewards/RRP:

€8.88

New

eur prices

Offer price:

€5.00

Rewards/RRP:

€7.61

New

eur prices

Offer price:

€5.00

Rewards/RRP:

€7.61

eur prices

Offer price:

€19.00

Rewards/RRP:

€43.12

New

eur prices

Offer price:

€5.00

Rewards/RRP:

€7.61

New

eur prices

Offer price:

€6.50

Rewards/RRP:

€8.88

New

eur prices

Offer price:

€6.50

Rewards/RRP:

€8.88

New

eur prices

Offer price:

€10.00

Rewards/RRP:

€16.50

eur prices

Offer price:

€19.00

Rewards/RRP:

€44.39

eur prices

Offer price:

€16.50

Rewards/RRP:

€31.70

eur prices

Offer price:

€6.50

Rewards/RRP:

€10.15

Book of the month

eur prices

Offer price:

€6.50

Rewards/RRP:

€10.15

New

eur prices

Offer price:

€6.50

Rewards/RRP:

€8.88

New

eur prices

Offer price:

€5.00

Rewards/RRP:

€7.61

Book of the month

eur prices

Offer price:

€6.50

Rewards/RRP:

€8.88

New

eur prices

Offer price:

€6.50

Rewards/RRP:

€8.88

New

eur prices

Offer price:

€6.50

Rewards/RRP:

€8.88

eur prices

Offer price:

€5.00

Rewards/RRP:

€8.88

eur prices

Offer price:

€7.50

Rewards/RRP:

€11.42

Editor's pick

eur prices

Offer price:

€6.50

Rewards/RRP:

€8.88

eur prices

Offer price:

€10.00

Rewards/RRP:

€16.50

eur prices

Offer price:

€4.00

Rewards/RRP:

€8.88

Award-winning author

eur prices

Offer price:

€10.00

Rewards/RRP:

€16.50

eur prices

Offer price:

€7.50

Rewards/RRP:

€11.42

eur prices

Offer price:

€6.50

Rewards/RRP:

€8.88

eur prices

Offer price:

€10.00

Rewards/RRP:

€12.69
See more

Favourite films
Favourite films
New

eur prices

Offer price:

€10.00

Rewards/RRP:

€16.50

eur prices

Offer price:

€19.00

Rewards/RRP:

€44.39

5books

eur prices

Offer price:

€19.00

Rewards/RRP:

€44.39

12books

Award-winning author

eur prices

Offer price:

€38.00

Rewards/RRP:

€106.53

eur prices

Offer price:

€5.00

Rewards/RRP:

€8.88

12books

Award-winning author

eur prices

Offer price:

€44.50

Rewards/RRP:

€106.53

eur prices

Offer price:

€6.50

Rewards/RRP:

€10.15
See more

Funny reads
Funny reads
eur prices

Offer price:

€5.00

Rewards/RRP:

€7.61

eur prices

Offer price:

€5.00

Rewards/RRP:

€7.61

eur prices

Offer price:

€6.50

Rewards/RRP:

€8.88

eur prices

Offer price:

€4.00

Rewards/RRP:

€5.07

eur prices

Offer price:

€11.50

Rewards/RRP:

€13.96

eur prices

Offer price:

€6.50

Rewards/RRP:

€8.88

eur prices

Offer price:

€6.50

Rewards/RRP:

€8.88

eur prices

Offer price:

€6.50

Rewards/RRP:

€8.88

4books

eur prices

Offer price:

€16.50

Rewards/RRP:

€35.51

eur prices

Offer price:

€8.00

Rewards/RRP:

€16.50

eur prices

Offer price:

€10.00

Rewards/RRP:

€16.50

eur prices

Offer price:

€6.50

Rewards/RRP:

€10.15

eur prices

Offer price:

€5.00

Rewards/RRP:

€8.88

eur prices

Offer price:

€6.50

Rewards/RRP:

€8.88

eur prices

Offer price:

€10.00

Rewards/RRP:

€16.50

12books

Award-winning author

eur prices

Offer price:

€38.00

Rewards/RRP:

€106.53

12books

Award-winning author

eur prices

Offer price:

€44.50

Rewards/RRP:

€106.53

5books

Award-winning author

eur prices

Offer price:

€19.00

Rewards/RRP:

€44.39

5books

Award-winning author

eur prices

Offer price:

€21.50

Rewards/RRP:

€44.39

eur prices

Offer price:

€6.50

Rewards/RRP:

€8.88

Award-winning author

eur prices

Offer price:

€19.00

Rewards/RRP:

€38.04

Award-winning author

eur prices

Offer price:

€6.50

Rewards/RRP:

€8.88

eur prices

Offer price:

€5.00

Rewards/RRP:

€7.61

New

eur prices

Offer price:

€5.00

Rewards/RRP:

€7.61
See more

Book pack bargains
Book pack bargains
4books

Award-winning team

eur prices

Offer price:

€16.50

Rewards/RRP:

€35.51

12books

Award-winning author

eur prices

Offer price:

€38.00

Rewards/RRP:

€106.53

6books

eur prices

Offer price:

€23.00

Rewards/RRP:

€45.64

5books

Award-winning author

eur prices

Offer price:

€19.00

Rewards/RRP:

€44.39

3books

eur prices

Offer price:

€11.50

Rewards/RRP:

€22.82

5books

Award-winning author

eur prices

Offer price:

€12.50

Rewards/RRP:

€44.39

12books

Award-winning author

eur prices

Offer price:

€44.50

Rewards/RRP:

€106.53

9books

eur prices

Offer price:

€44.50

Rewards/RRP:

€79.90

5books

eur prices

Offer price:

€12.50

Rewards/RRP:

€44.39

6books

eur prices

Offer price:

€25.50

Rewards/RRP:

€53.26

4books

eur prices

Offer price:

€16.50

Rewards/RRP:

€35.51

4books

Award-winning team

eur prices

Offer price:

€82.50

Rewards/RRP:

€154.94

5books

eur prices

Offer price:

€19.00

Rewards/RRP:

€38.04

eur prices

Offer price:

€16.50

Rewards/RRP:

€59.60

5books

Award-winning author

eur prices

Offer price:

€21.50

Rewards/RRP:

€44.39

Award-winning author

eur prices

Offer price:

€19.00

Rewards/RRP:

€38.04

10books

eur prices

Offer price:

€23.00

Rewards/RRP:

€76.07

4books

Award-winning author

eur prices

Offer price:

€19.00

Rewards/RRP:

€35.51

4books

eur prices

Offer price:

€18.00

Rewards/RRP:

€35.51

4books

eur prices

Offer price:

€19.00

Rewards/RRP:

€35.51

5books

eur prices

Offer price:

€23.00

Rewards/RRP:

€46.93

5books

eur prices

Offer price:

€19.00

Rewards/RRP:

€44.39

10books

eur prices

Offer price:

€25.50

Rewards/RRP:

€76.07

eur prices

Offer price:

€19.00

Rewards/RRP:

€43.12

4books

eur prices

Offer price:

€18.00

Rewards/RRP:

€35.51
Browse more children's books by age